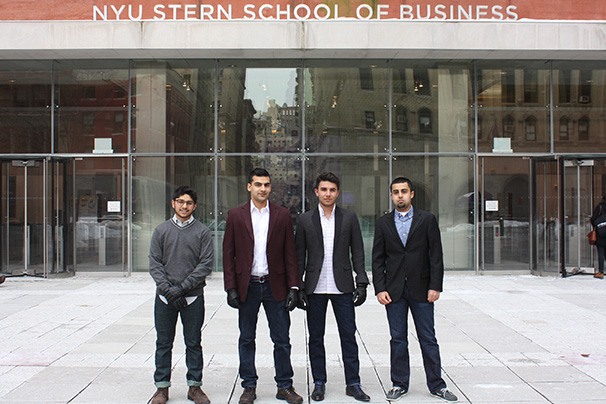 The Up to Us national campaign was first introduced to NYU students in September, when the Stern School of Business' marketing team sent an email to all students in the Business and Political Economy program and encouraged a team of five students to get involved.
The campaign, sponsored by the Clinton Global Initiative, Peter Peterson Foundation and Net Impact, aims to educate college students about the implications of long-term federal debt. The goal is to engage young adults and teach them about the current financial crisis through interactive techniques, including social media.
The NYU team that responded to the email's challenge comprises five Stern freshmen — Jai Malik, the team's leader, Fahad Jamal, the deputy team leader, Shivangi Khanna, Michael Kokkinos and Aziz Adib.
"Essentially, this is a nationwide competition to raise awareness about the national debt," Jamal said. "We are the youngest team participating, and actually the only freshman team selected from around the country. Some teams even have graduate students on them."
The team is aiming to reach their fellow classmates through a wide range of social media techniques.
"We have created a Facebook page with public support from NYU Secrets for our campaign," Malik said.
In addition, the team is planning to bring its campaign to residence halls once a week in the evenings beginning on Feb. 3. They will distribute posters, give away free t-shirts and ask students to take their debt survey.
The debt survey, a critical part of the campaign, measures each student's personal intelligence regarding national debt and allows the team to determine which areas need to be focused on while educating the student body of the current economic issues.
The team recently released two self-directed videos, titled "Thrift Shop Troubles" and "Death of an Economy," that provide a basic overview of the causes of the national debt.
The number one focus of the team's campaign is to ensure that students will become aware of the financial problems currently affecting their lives, especially with regards to student loan debt.
"It is our ultimate hope that we can inspire NYU to take action and be one cohesive movement and community, demanding rectification in a mature manner," Malik said.
The team's current goals for their campaign include having 2,000 people take the debt survey, acquiring social media engagement and garnering a high turnout for all campaign events.
The team's keynote event is tentatively scheduled for Feb. 19 in the Kimmel Center for Student Life. The event will include a high-profile speaker — who is still to be decided — in discussion with NYU professors and alumni.
A version of this article appeared in the Monday, Jan. 27 print edition. Kimberly Schu is a staff writer. Email her at [email protected].