NYUAD worker conditions under investigation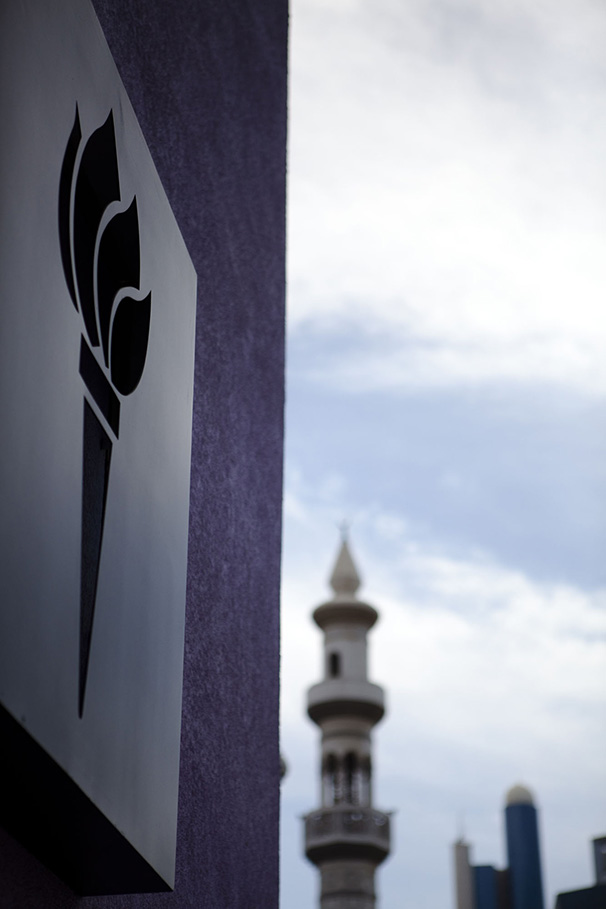 Migrant workers hired to build NYU's Abu Dhabi campus on Saadiyat Island are being subjected to squalid working and living conditions, according to an article in The Guardian published late December.
The article described the harsh conditions, and quoted workers who claimed their conditions were inhumane.
Glenn Carrick, one of the journalists who worked on the piece, said that an investigation was carried out between September and November last year on a housing camp in Musaffah, an industrial area in Abu Dhabi, where 43 workers from the NYU site lived. Carrick clarified that his statements reflect his own views, not those of the publication he writes for.
"It failed even the most basic standards and the exploitation of the men was the worst [I] have ever seen — some had to pay for their own work clothes, their first year salary had to be used entirely to repay recruiters and they had no health care," Carrick said. "There was no regulation of any kind … There was no recreation [facility], no windows in the rooms, a dark, depressing, grim place."
NYU hired its own auditor, Mott MacDonald, to monitor working conditions on its Saadiyat Island construction site. One of NYU's minimum living conditions for workers on the project is the requirement that there are no more than four individuals per room. MacDonald's most recent report, released last January, found that the camps on Yas Island and Mussafah — where 90 percent of workers lived — met the university's requirements.
But recent allegations have required a new evaluation. NYUAD director of public affairs Greg Bruno said the university is investigating the new reports of poor living conditions.
"The conditions depicted are wholly inconsistent with the labor standards that have been in place to great effect over the past four years," Bruno said. "Rigorous inspection and enforcement mechanisms are in place to ensure labor standards are met, and in those rare instances in which gaps in these standards have been identified, they have been swiftly resolved."
Nick McGeehan, a Middle East Researcher for Human Rights Watch, is quick to note that there has been no corroboration of the MacDonald report by a truly objective monitor. He explained that access to Saadiyat Island is controlled.
"The only information we have comes from the auditing reports of the monitors who were appointed by NYU," McGheehan said.
HRW published a report on working conditions on Saadiyat Island in 2009, and again in 2012. On Feb. 24, 2011, Sarah Leah Whitson, Executive Director of HRW's Middle East and North Africa Division, wrote a letter to NYU and the other enterprises with construction sites on Saadiyat Island citing unfair labor practices urging the recipients to uphold their commitments to workers' rights.
Whitson received a letter from former NYUAD spokesman Josh Taylor on March 27, 2011. The letter listed NYU Abu Dhabi's minimum accommodation requirements. These included not having more than four individuals per room, all rooms being equipped with ventilation systems and a minimum of 4.5 square meters of personal living area for construction operatives.
Samer Muscati, previously a researcher for HRW's Middle East and North Africa division, said that NYU made public commitments to protect workers constructing sites on the Saadiyat Island.
"Anything less than this would be a violation of NYU's own public commitments in protecting workers," Muscati said.
The last visit HRW made to the construction site was in January 2011. McGeehan said that while HRW has never applied for formal permission to visit the site, access to Saadiyat Island is limited.
McGeehan said that there hasn't been any corroboration of the MacDonald report by a truly independent monitor.
"The only information we have comes from the auditing reports of the monitors who were appointed by NYU which is Mott MacDonald," McGeehan said. "We haven't been able to go in there ourselves and monitor conditions unfortunately."
According to a press release by HRW on March 21, 2012, Abu Dhabi's Executive Affairs Authority is responsible for the development and construction of NYU's campus on Saadiyat Island.
The EAA also received the HRW letter from Whitson on Feb. 24, 2011. A month later, they responded to the letter, expressing disappointment about HRW conducting site visits. Such visits cause significant health and safety risks for workers at the NYUAD construction site their response said.
Muscati said the EAA statement underscores the United Arab Emirates government's concern about their image.
"The U.A.E. authorities have tried their best to prevent any bad publicity on labor conditions on Saadiyat Island by limiting access to journalists and human rights activists," Muscati said. "[W]hen I was researching on Saadiyat, I was amazed at the number of checkpoints preventing access to sites and workers."
Muscati said that a key priority for HRW in their work is protecting victims by interviewing them privately and confidentially.
"Having a government representative accompany us and looking over our shoulder would have intimidated workers and put them at risk of retribution if they spoke the truth so of course we had to do our research in the field independently," Muscati said. "Apparently the U.A.E. government had a problem with that."
CAS junior Donnie Donilon said that NYU should stop involving themselves with the U.A.E. or start speaking out.
"I would prefer for NYU to be able to stay at Abu Dhabi to be able to keep employment for those who rely on it abroad and be able to actually speak out sternly against the human rights abuses in the UAE and cause material change, but this unfortunately does not seem likely to happen in the current climate," Donilon said.
The campus at Saadiyat Island is scheduled to open later in 2014. For now, students have been using the downtown campus.
A version of this article appeared in the Monday, Jan. 27 print edition. Additional reporting by Daniel Huang. Afeefa Tariq is a deputy news editor. Email them at [email protected]