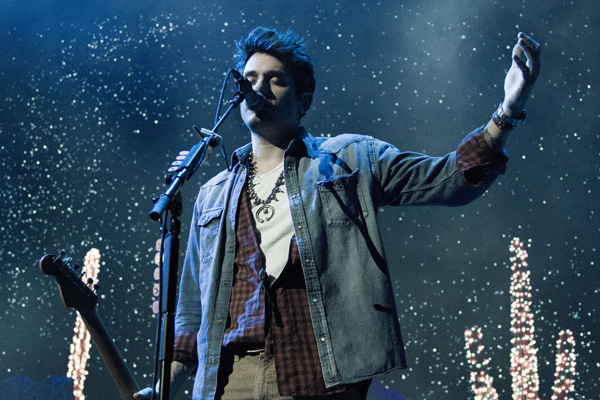 Upon John Mayer's return from his musical hiatus, which lasted nearly two years, several critics suggested Mayer had lost his musical mojo — he simply didn't sound or feel the same.
Those critics obviously haven't seen Mayer on the "Born and Raised" tour. Performing to a full house at Barclays Center on Tuesday, Dec. 17, Mayer quickly set the tone for the night on his opening number, following the opening act of "American Idol" winner Phillip Phillips, who was nearly outplayed by his own band.
Breaking into a four-minute solo on "Queen of California," Mayer turned a bluesy rhythm on his Stratocaster into a folky, improvised tune. Following this enchanting musical statement, Mayer sang "Half of My Heart" and "I Don't Trust Myself (With Loving You)." Nothing from his discography was off limits. Mayer's selections ranged from his newest hit "Wildfire" to old crowd favorites from his debut album, such as "Why Georgia."
Some artists struggle to perform their studio work on stage, but Mayer is not one of them. He surrounds himself with a band — each member skilled in their respective instruments, and the payoff is enormous.
Through near constant modulation and improvisation, Mayer makes a live performance electrifying. The studio version of his records enter new musical dimensions and each of his solos is as mesmerizing, and varied, as the last. During the Americana-esque song "If I Ever Get Around to Living," Mayer began in a bluegrass bass, but moved the track into a jazz drop and finished with an explosive solo.
Soon after, Mayer thanked his fans for sticking with him past his initial radio hit, "Your Body is a Wonderland," before finding his inner Bob Dylan to the nostalgic sweetness of "Dear Marie."
Dec. 17 was the last stop in the United States of Mayer's eight-month international tour, before he heads to Australia, and it seems he saved the best for last, even at this show. Opening his encore, Mayer invited his pop superstar girlfriend Katy Perry to the stage to croon the duet of "Who You Love," of which the two had performed earlier in the day on "Good Morning America." Following this, Mayer moved into a mellow cover of the Eagles' "Please Come Home For Christmas," one that could make the audience wish Mayer would have been a member of The Eagles himself.
The set was capped with an extended take of "Gravity," and Mayer ended the song by playing a fiery guitar solo. Sensitivity, eloquence, musical dominance and humor all marked a set that was filled with both energy and leisure.
Adam Kargenian is a contributing writer. Email him at [email protected].