John Keshecki | The Bridge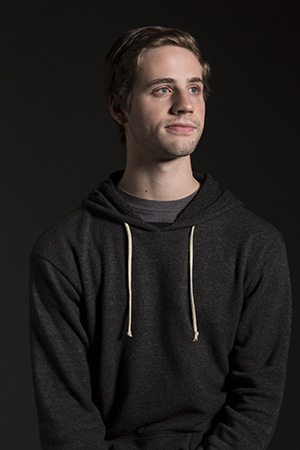 Organic Chemistry means three things to NYU-Poly senior John Keshecki — it's the study of the most basic structures of life, a class for which many students dread the workload and one of the best courses he has taken so far.
Part of his love comes from the professor who taught it, Mark Green. Along with a few other individuals, Green has served as a major inspiration in Keshecki's academic career because he simultaneously cultivates close relationships with his students and enjoys his work. Keshecki often assumes a similar role in his position as president of the Polytechnic Institute of NYU's Student Council, as he loves creating personal relationships with the student body and creating events to unite these students.
"You can't just boss people around," Keshecki said. "You've got to have general relationships with everyone, and you have to understand how they're feeling and working every day."
For Keshecki, being a Boy Scout and ultimately an Eagle Scout spurred much of his growth as a leader.
"I learned that it was making a community within a group that was most important," Keshecki said. "Making personal relationships and making sure everyone's having a good time, while also progressing forward, is also a part of that."
Upperclassmen encouraged Keshecki to become a leader when he came to NYU. NYU-Poly alumnus Johnny Quinn, who was then Student Council president, encouraged Keshecki to join in the university's activities, including becoming an orientation leader. Quinn also dragged him to fraternity events.
"I never, ever planned on joining a fraternity," Keshecki said. "I wasn't interested in it, but then, getting to know them and seeing what they were actually all about, I noticed that Lambda Chi Alpha was a place where you could be a role model in this community."
Keshecki is still a member of Lambda Chi Alpha, and he continues to organize events on NYU-Poly's campus with the fraternity. He even finds crossover between his work for the fraternity and Student Council.
"You start reaching out to the Poly community. Being able to do that and then applying it to other organizations, like Student Council, has been the best part," Keshecki said.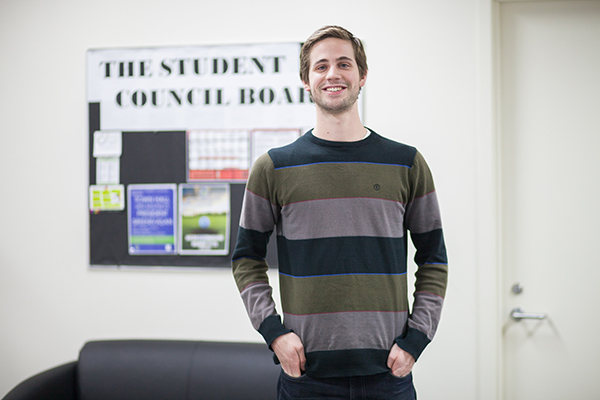 With the Student Council, Keshecki has planned some of NYU-Poly's most important events, leaving a lasting mark on his fellow students, including Halloween Week, which Poly freshman Chandrika Khanduri cites as one of her favorite events Keshecki has organized.
"Being from India, this was my first Halloween ever," Khanduri said. "I did not expect to celebrate it, but the Halloween Week event pulled not just me, but also many other students into celebrating the event."
Many other students have found Keshecki's enthusiasm for community infectious. Udisa Chowdhury, also an NYU-Poly freshman Student Council Committee volunteer, has even been inspired to work toward Keshecki's determination to unite students.
"As we are merging, John, a senior, encourages me, a freshman, to bring together both communities so that both can be influenced by each other," Chowdhury said.
And merging NYU-Poly with the main NYU campus is one of Keshecki's primary goals as Student Council president. It is by no means an easy task considering NYU-Poly is at least six subway stops away from the Washington Square campus, but Keshecki brings students together with ease.
NYU-Poly freshman Sidney Elie-Pierre, one of a few students who Keshecki mentors, Keshecki personally encourages students to visit Washington Square.
"[Through his work], I am confident that I have developed a great sense of community on this campus by getting to know a lot of people," Elie-Pierre said.
Yet even despite all of his work planning events and his ease while working with others, Keshecki does not conscientiously seek acclaim for his work. What matters to him is the chance to work and grow closer to others. Even when Keshecki's influence is visible, he remains out of the limelight.
In October, Keshecki led a town hall with NYU President John Sexton. At that town hall, Keshecki heard some of the issues NYU-Poly students were facing during the merge — from financial aid, to communication between schools to transportation. Keshecki said these issues were expected, but he will continue "making everything seem a little better for the student body."
The events Keshecki plans are one way of alleviating the anxieties of his fellow students. Keshecki highlighted Breast Cancer Awareness Month as a personal favorite event he has planned. For that event, Keshecki rallied the NYU-Poly community to raise funds, then led a well-attended walk.
While Keshecki has inspired the Poly community, he also leads via the example of his own inspiration. Among such figures is professor Matthew Campisi, who led a presentation, as part of the event, on the early breast cancer detection technologies he engineered.
Keshecki's life has been full of similar role models. Green taught him the value of developing bonds with co-workers. Campisi, who attended NYU-Poly as an undergraduate student, complements what Keshecki learned from Green through his use of scientific work to ultimately help a larger community — and maybe that's the exact reason why Keshecki admires him.
"He does his research, but he does his research for a cause, and that affects his family, the community, and the world around him," Keshecki said.
With Keshecki inspiring so many NYU-Poly students to take up an active role in their academics and student community, it's not hard to imagine someone saying that about Keshecki some day.
– Alex Greenberger
Studio photography by Alexis Bynum, other images by Rachel Kaplan/WSN