Asma Imam | The Giver
In the breaking of bread, Asma Imam stumbled upon a community like she had never experienced before at the Islamic Center at NYU. Ramadan coincided with the start of her freshman year, and although it was the first time she was away from family during the holiday, she found a new, lasting family.
"For the first time, [I] know so many other Muslims who are our age," the CAS senior said. "So I think that's what's really special, is people can really relate to one another."
After a Welcome Week program, she learned of the iftars, or meals to break the fast, that the Islamic Center was hosting.
"I quickly saw how these Muslim students treated each other like family and the Islamic Center as their home away from home," she said.
Four years after her first dinner, Imam has transitioned from guest to hostess. Now, as the president of the Muslim Students Association, she helps organize weekly meals that cater to a broader range of students.
"We try to host dinners on Mondays because people are encouraged to fast," Imam said. "And regardless of whether or not you're fasting, you can come have dinner with us."
Imam personally extends dinner invitations, especially to freshman, in a similar way to the Welcome Week advertisements that intrigued her.
"Personal outreach I think makes a big difference," Imam said.
Imam grounds her positive disposition and easygoing smile with faith and service, intertwining her communities and interests. She continues to build community, one person at a time, promoting an MSA that uses spirituality, service and social programming to serve whatever interest a student is seeking.
"We accept regardless of what stage they are at in their religious development," Imam said. "So regardless of whether or not you're Muslim or regardless of where you are, even if you are Muslim, it's open to you and we try to make that very obvious."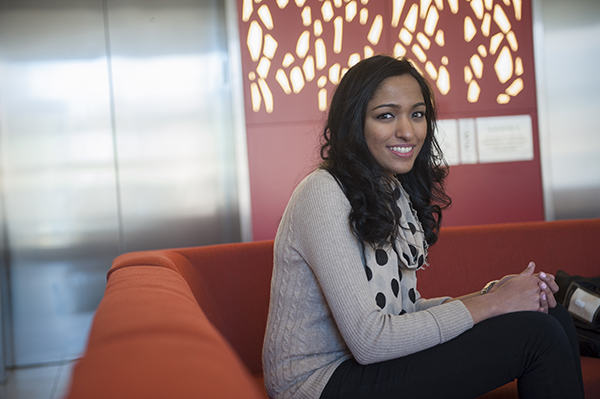 Each week when the MSA gathers for their eboard meetings, member settle into the communal space on the fourth floor of the Global Center for Academic and Spiritual Life, as children play and people pray nearby. Imam's organizational skills make meetings run smoothly and guide the discussions while letting everyone's voice be heard.
"People trust her enough to seek her advice and counsel on many issues, and she has the ability to make a person feel more important than anything else at times when they are most in need," said Khalid Latif, the university chaplain and executive director of NYU's Islamic Center. "Her ability to comfort is further strengthened by her ability to listen."
Latif along with Bronfman Center Rabbi Yehuda Sarna are two religious leaders on campus that have greatly affected Imam. She enrolled in two classes, Interfaith Dialogue, Leadership, and Public Service: Traditions of Engagement in the U.S. and Beyond and Multi-Faith Leadership in the 21st Century, which Latif and Sarna co-taught.
It was in her Multi-Faith Leadership course that Imam first learned of the Interfaith Service Explorations Floor at Gramercy Green residence hall. This year, she became the floor's resident assistant.
She seeks to instill the same spirit of service in her residents and peers that her father instilled in her, through her participation in Project OutReach before freshman year, by planning community service and social programs for her 24 residents, as well as for MSA members, she extends this altruistic spirit.
"[My dad] always made me conscious of the fact that there's always going to be people in need," she remembered. "You can feel more part of the community if you participate in service. I think it just brings people closer together."
Beyond her personal connections to her peers and residents, Imam wields a wide perspective, in part gained from her theoretical study of politics and economics.
She finds connections to those she serves, even when the affected group isn't in close proximity. At an MSA fundraiser for the Philippines, Imam was moved when a Filipino student extended his gratitude for the event.
"It's always nice to hear from people that you don't know because you know you're going outside your bubble, your community and affecting people who the issue really matters to," Imam said.
By engaging with others and answering questions from her residents, she hopes to foster a greater understanding about faith.
"People are becoming more open-minded and realizing that religion isn't cookie-cutter," Imam said. "It's not the same for everybody, and they are more accepting of the fact that everyone practices differently."
As she approaches her last semester at NYU, Imam's future plans remain unclear. But for the next few months, Imam can still be found on the fourth floor of GCASL, happily surrounded by the ever-expanding community. Its members, though diverse, rally behind Imam's guidance and constant service.
— Emily Bell
Studio photography by Alexis Bynum, other images by David Lin/WSN