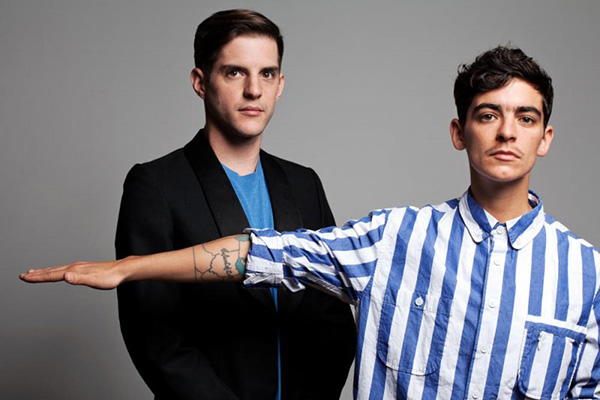 JD Samson is considered an icon among feminists and in the queer community, but she has mixed feelings about the esteem she receives.
"I was in the right place at the right time," she said of her involvement with feminist electroclash band Le Tigre, which achieved considerable success before deciding to take an extended break in 2006.
"I was this genderqueer performer and artist that kind of helped push along a new … revolution in identity," Samson said.
In an interview with WSN, Samson discussed her current project, the band MEN, which is performing in Brooklyn on Saturday, Dec. 14. Since forming in 2007, the band has addressed issues like trans representation, feminism and the arrest of Pussy Riot.
"We think it's so awesome that people can define themselves as whatever they want," Samson said about the band's name. "And anyone can be a man if they want to be, and anyone can be anything … that's really what MEN speaks to."
Samson calls herself a gender outlaw, someone whose gender expression or identity doesn't fit with the traditional concepts of feminine or masculine.
"Since I was a kid, I was kind of … outside the regular gender binary," she recounted. "[My gender expression] was something that in the past I had to explain a lot to the press and just in my everyday life."
With the rise of Le Tigre, Samson became a hero to many people grappling with their gender identities. But in MEN's second album, "Labor," Samson attempted to focus on a different side of herself.
"Part of the process in writing this last record was definitely about trying to think of myself more as a person and less as an object in this political moment," she said.
"Labor," a catchy, upbeat record Samson described as "juxtaposing dance music with intellectual lyrics," proved a more personal album than MEN's debut album, "Talk About Body." The feminist activism present in all of Samson's work is still there. But its approach is more grounded in Samson's own self-identity.
"I wrote a song about Caster Semenya," Samson said referring to the South African Olympic runner who was subjected to gender testing. "But I wrote it in first person. It was interesting to force myself to write from the first person, even though I was writing about other people or other political ideas."
For Samson, who has spent much of her career with an activist identity, separating that persona from her artistic identity proved tough.
"It was difficult for me, to find myself through writing because I was so used to writing for a community," she said.
The figure on the album cover for "Labor" is a depiction of Samson. But in representing herself, Samson still wanted to retain a part of her identity as privately hers.
"It's hard to figure out how to write a record that speaks to yourself but doesn't give too much away," she said.
A version of this article appeared in the Tuesday, Dec. 10 print edition. Malina Gulino is a contributing writer. Email her at [email protected].