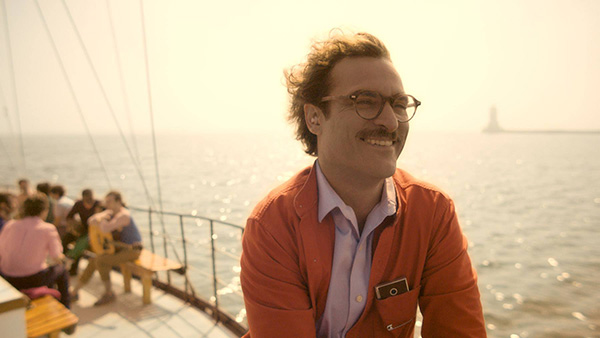 To put it simply, "Her" is the best film of the year. Spike Jonze's not-so-futuristic tale of the love between a lonely man and his computer's operating system is one of the most genuine and authentic romances ever made.
Joaquin Phoenix plays Theodore Twombly, a writer at a company specializing in composing poetic, hand-written notes for all occasions. His divorce weighs heavily on his heart, and he struggles to connect with others in a seemingly utopian society. Then he meets an operating system named Samantha, voiced with impeccable sincerity by Scarlett Johansson, and proceeds to fall in love with her.
Every development in the story hits the right note. Working from his first entirely original screenplay, Jonze breaks free of his past work as a conduit for Charlie Kaufman. Their collaborations on "Being John Malkovich" and "Adaptation" were wildly successful and noteworthy, but something always felt missing. With "Her," a notion of cohesion and individual artistic expression signals the solidification of Jonze as a titan in cinema, and not just in the realms of skate and music videos.
After appearing in Paul Thomas Anderson's "The Master" last year, Phoenix and Amy Adams again display unbelievable nuance and authenticity that is uncommon in science fiction. As Theodore's friend from college, Adams plays a mutually respectful and understanding confidante for the fragile protagonist. Both display a refreshing versatility, reminding audiences of their standing as two of the most valuable actors working today.
The performances are outstanding from beginning to end, regardless of screen time — Olivia Wilde shines as an eccentric date, Chris Pratt is grounded as the goofy boss and Rooney Mara is devastating as Theodore's bitter ex-wife. And then, there is Johansson, who has a voice that is easy to love. She commands attention scene after scene with the nuanced inflections of her voice.
Samantha Morton was originally cast as Samantha and was on set throughout production in an isolated sound booth as well as working with Phoenix throughout the shoot. While editing, Jonze decided the performance was not what he had envisioned and decided Johansson would be better suited to the role. Morton still receives credit as a producer, but Jonze certainly made the right decision to switch actresses.
In certain respects, "Her" is also one of the scariest films ever made. Sitting in a theater and watching this film is a marvel, and it feels as though everyone is trying to laugh off the notion something like this could happen to him or herself. "Her" feels all too familiar, which is both terrifying and heartbreaking.
The entire film is a technical and visual marvel. The subtlety and detail behind the production design, art direction and costuming is delightful, and Hoyte van Hoytema's cinematography is crisp and funky. With humor and heart at every turn, it is safe to say nothing more satisfying than "Her" has been released this year.
A version of this article appeared in the Tuesday, Dec. 10 print edition. Ben Marques is a contributing writer. Email him at [email protected]