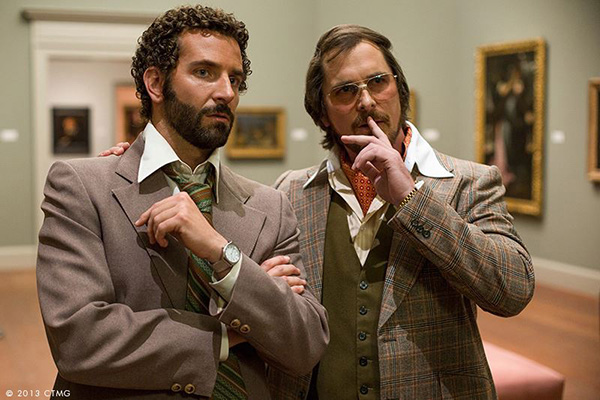 Backed by Led Zeppelin's "Good Times Bad Times," the first trailer to "American Hustle" invites audiences to David O. Russell's party, which appears to be a combination of "The Great Gatsby" and "Goodfellas." Set in the glamorous, fictionalized world of the Abscam scandal of the 1970s and 1980s, Christian Bale's elaborate headpiece is merely a festive tablecloth in Russell's upcoming Oscar bid.
While the loose, flashy atmosphere of the trailer may suggest "Hustle" marks Russell's return to more lighthearted fare, drama and complicated characters lay buried beneath the sex, dancing and big hair. Russell's status as one of the best active directors gives him access to all-star actors, who serve as his guests of honor. Instead of bringing chips and soda, they offer rich, multilayered desserts, attacking their roles in ways they never have before.
Bale's relaxed confidence and wit are contrasted with Bradley Cooper's performance as a corrupt FBI agent who remains cool and in control, whether underneath hair curlers or behind era-appropriate sunglasses. Cooper offers Bale a partnership after he discovers Bale's fraudulent art dealing.
Amy Adams and Jennifer Lawrence are sexy and sassy, yet both are poised to deliver career-best performances beneath heavy makeup and skimpy dres-ses. Reckless and unpredictable, Lawrence lays the chain-smoking housewife of Bale, whose heart is truly set on Adams, his partner and lover. But Adams is juggling two identities, as she works with Bale and Cooper to uncover the mafia's influence in New Jersey politics.
Russell has abandoned the simplicity and genuineness of working-class protagonists overcoming obstacles — the typical plot in his previous, modestly-budgeted films "The Fighter" and "Silver Linings Playbook." Instead, he replaces it with the extravagant lives of characters who eat at white tablecloth restaurants rather than their cozy homes — characters who are trying to hustle their way to power and wealth. Of course, there are risks that could bring this party to an abrupt and harsh end, but it will be enjoyable until the police arrive.
A version of this article appeared in the Thursday, Dec. 5 print edition. Marissa Elliot Little is a staff writer. Email her at [email protected]