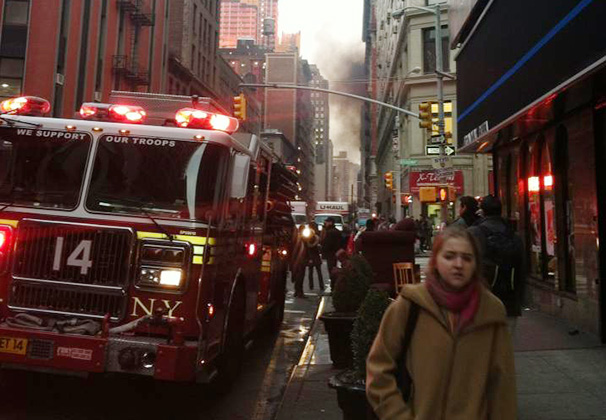 Students at NYU's Stella Adler Studio at 31 W. 27th St. were evacuated after a fire broke out in an adjacent building on last night. The New York City Fire Department is currently investigating the cause.
The FDNY received a call at 3:26 p.m., and the fire was controlled by 4:06 p.m. No injuries have been reported.
Tisch sophomore Nell Kessler said she was sitting down for class when she and her classmates smelled a burning odor and noticed smoke outside.
"We poked our heads out and saw the smoke coming out of a window a couple floors down, so we alerted the front desk, and a minute later they evacuated the studio," Kessler said.
While most students went home following the evacuation, some re-entered the building around 4:15 p.m., after the building was clear.
"When I re-entered the building, everything was fine. A little foggy, but fine," Tisch junior Alexa Adderley said.
Classes are expected to continue.
Michael Domanico is a news editor. Email him at [email protected]