Members of the Roosevelt Institute's NYU chapter discussed their public policy proposals at the group's weekly meeting in the Kimmel Center for University Life.
The proposals were submitted Monday as candidates for the "10 Ideas" booklet, an annual publication distributed by the Roosevelt Institute, a nonprofit organization that helps foment progressive policy ideas that contains. The booklet contains 60 student-written policy ideas on a range of issues including health care, justice and education.
Morgan Sendor, a GLS senior and the policy director for NYU's chapter, submitted a proposal that would transform vacant lots into community gardens.
"The underlying philosophy of this club, both at NYU and nationwide, is to get people involved in policy in a way that they might not be able to that early otherwise," Sendor said. "So '10 Ideas' really makes that a concrete philosophy because it provides that platform that people would not be able to get right now."
Students spent the semester developing proposals and engaging in workshops with other members of the NYU chapter, including Sendor. The club offers policy writing workshops, research workshops and websites with guides for writing policies.
"It's hard to know everything about everything. I tend to help more where it seems like things are lacking," Sendor said. "I try to help with research a little bit and try to find resources, but unless it is something I am more closely related to, [the students] know more about it than I do."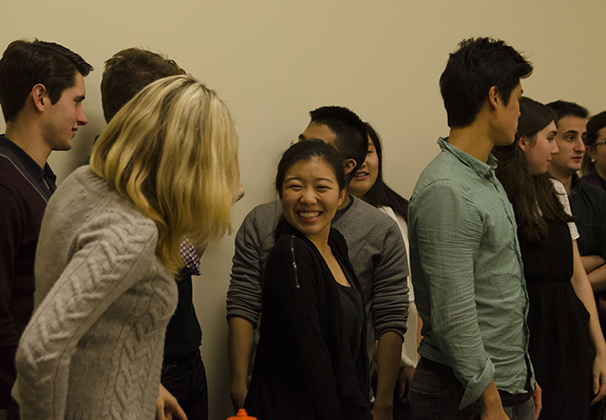 Seven proposals, including ideas about treatment of prison inmates and hydraulic fracturing policy, were presented Tuesday night. CAS senior Winnie Chen, one of the co-presidents of the club, said she has seen a unique variety of proposals throughout her four years as a member of the club.
"[The policy proposals] are really diverse," Chen said. "It's surprising that there is no pattern. People have different things that they feel passionate about, and we're a nonpartisan club, so you get all different perspectives."
Eugenia Kim, a sophomore in Liberal Studies, proposed expanding the federally funded after-school program Upward Bound, which helps students prepare for college by giving them additional instruction. Kim's motivation for her policy stemmed from her experiences with the program.
"I think it was the personal aspect for me because I wouldn't have gotten the education that I did, and I don't think I would have come to NYU [without the program]," Kim said. "I think that everyone should have equal opportunity to receive first-rate education."
In the spring, Chen said the club will try to turn some of these policies into projects that can impact communities.
"Instead of just writing about it, we try to do something," Chen said.
Sendor also addressed the time and effort required to construct a policy.
"It'd be pretty exciting because, for most policies, it takes a lot of work," Sendor said. "And to get that work recognized is amazing."
A version of this article appeared in the Wednesday, Dec. 4 print edition. Klein Aleardi is a staff writer. Email her at [email protected]