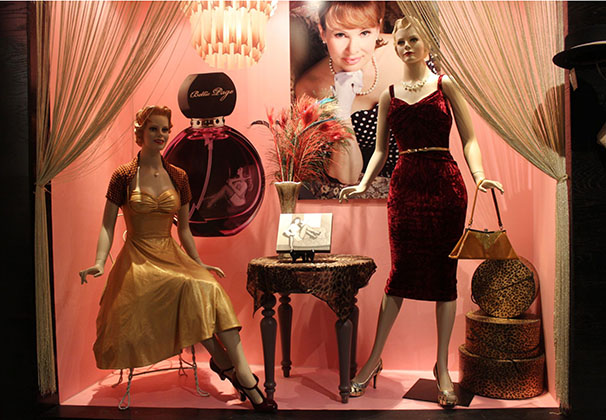 As times change, many have reverted to clothing trends of decades past. The '50s fashion has made a big comeback in many notable fashion houses, such as Rochas and Lanvin, which have implemented conservative hemlines and decadent florals into their winter collections. However, if executed incorrectly, a '50s-inspired ensemble can quickly go from cute to kitschy.
This classic, retro look is known for items such as pencil and full skirts, fitted blouses, narrow pants and capris, and accessories, including small hats and gloves. The particular fads ranged during the decade, but the general notion was the same — bold yet fairly modest, especially compared to current trends in fashion. Stores such as Bettie Page (303 Bowery) market their brand specifically as retro fashion. Much of that store's product line is quintessentially 1950s, influenced by Page, a famed pinup girl. Various celebrities have been seen sporting pieces from the collection, including Dita Von Teese.
To bring this look into the 21st century, focus on keeping the classic shapes and pairing them with the palettes and patterns currently in season. Opt for neutral tops and jackets paired with more colorful bottoms. Topshop carries a wide selection of skirts in numerous shades and textures. For a runway-inspired look, play around with materials such as velvet and wool, and consider layering the top pieces for comfort as well as versatility. Shoe and accessory possibilities are endless, although most shoes associated with the era are no higher than a kitten heel (1 to 3 inches) making them the perfect choice for bringing '50s style from the catwalk to the classroom or office.
The classic style still has a significant influence on modern trends, causing select stores and online retailers to cater to customers seeking a contemporary spin on the vintage look. ModCloth is one of the most notable brands, offering both new and vintage pieces on its online store. They excel in their ability to make '50s-style clothing inherently modern with their use of shorter hemlines and incorporation of current fashion trends and prints. For example, their Brand New Lace Dress ($74.99) features a cream-colored floral lace bodice with a black collar and matching black skirt with soft pleats, which closely resembles a Valentino dress from the Fall/Winter 2013 collection. The mix of modesty and modern styles is a staple in the retailer's clothing, and it makes the return to retro styles seamless and intrinsically fresh and consistent with current trends.
The key to evoking the '50s era and bringing it into the modern day depends on the confidence you exude when wearing form-fitting, bold attire. At the same time, you must add personal touches to make the look original as opposed to costume. Although times have changed, clothing does not necessarily have to follow suit, and with a little planning and personality, the '50s can — and will — be here to stay.
A version of this article appeared in the Wednesday, Dec. 4 print edition. Gianna Collier-Pitts is a staff writer. Email her at [email protected]