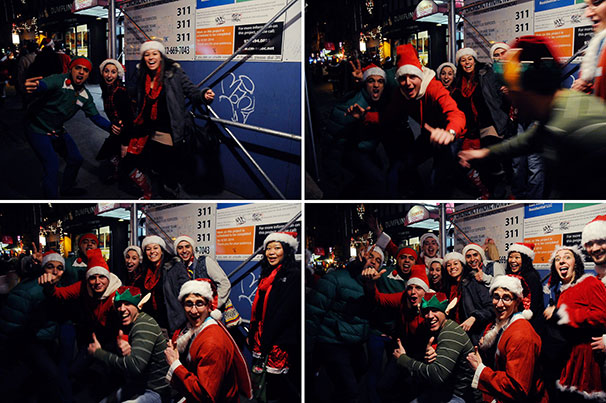 When city residents dress up as Santa Claus on Dec. 14 for the annual SantaCon, some bars may be closing their doors.
After numerous complaints about SantaCon in Midtown and Hell's Kitchen, the New York Police Department's Midtown North Police Precinct has handed out letters to approximately 30 bars in those communities asking them to consider the consequences of SantaCon.
"Having thousands of intoxicated partygoers roam the streets urinating, littering, vomiting and vandalizing will not be tolerated in our neighborhood," Lt. John Cocchi said to bar owners in the letter.
NYPD commissioner Ray Kelly has said at an NYPD event he supports SantaCon even though some members of the police department disagree, according to the New York Daily News.
A spokesperson from NYPD said opinions in the community vary about the event.
"Some people see it as bad quality of life conditions with drunk people laying in the street and urinating in public or some people see it as a festivity," the spokesperson said. "It's all subjective."
However, the spokesperson said the decision to allow SantaCon goers into their pubs will ultimately be up to individual business owners.
Cock & Bull, a pub located in Midtown, supports the precinct's campaign. The manager Rasa Hynes said the bar did not encourage the event last year.
"Even last year, we didn't encourage it," Hynes said. "We don't encourage it. We like you to come in to have a meal and a drink."
Meanwhile, Midtown bars were not willing to comment on their policies regarding SantaCon. However, bar owners in the Greenwich Village disagreed with the campaign. Employees at Lelabar, The Wayland and Elsa Bar said they will not participate in SantaCon, while Common Ground and Keybar stated support for the event.
"SantaCon is a wonderful event," Common Ground manager Dan Warren said. "We get a lot of business from SantaCon. I don't think it's bad for the community."
Steinhardt sophomore Re'al Christian, who saw SantaCon last year, said he agreed with the Midtown North Police Precinct's desire to cancel SantaCon.
"SantaCon can be dangerous because some people use it as an excuse to go wild," Christian said. "If there are kids present and there are drunken Santas running around, that's kind of traumatizing."
The SantaCon website, which lists participating locations in 42 countries, has humorous guidelines, but warns against excessive drinking that can lead to violence. The website also includes a list called the "Four F's" which advises participants not to interfere with children, bar staff, police officers and the city in general. The website is not involved in the organization, but acknowledges "Drunk Santas" through parodies of Anti-Santa posters.
Despite the precinct's efforts, SantaCon participators remain unmoved.
"I will always carry SantaCon memories with me," said 29-year-old Albert Ngo, who has participated in SantaCon for three years. "It's not the million man march, it's just good times with friends."
The route for SantaCon will be announced Dec. 13. Bars volunteer to participate in SantaCon by providing their information on the website and donating to a charity sponsored by SantaCon.
A version of this article appeared in the Monday, Dec. 2 print edition. Vasiliki Gliagias is a contributing writer. Email her at [email protected]