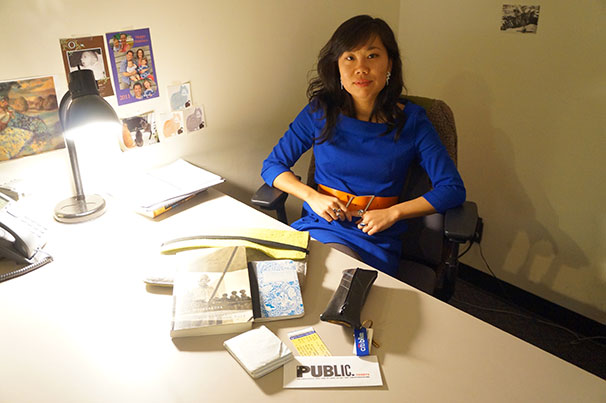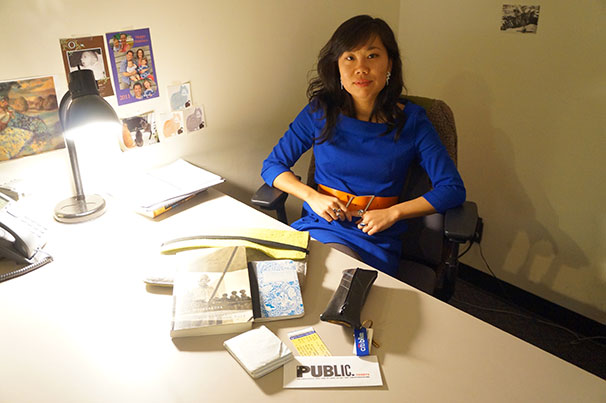 Upon hearing the phrase Writing the Essay, a NYU student may be overcome with unpleasant thoughts. Most of these consist of late nights spent in Bobst Library and heaps of essays to read, among other one-sided generalizations that summarize the reputation of the university's most well-known introductory class. Students may not consider the multidimensionality of the professors who teach this rigorous course.
Writing the Essay professor Dora Zhang is an example of how genuine a professor can be. A look at the contents of her bag highlights the various features of her vibrant character. In addition to her handy laptop, she carries a few idiosyncratic items.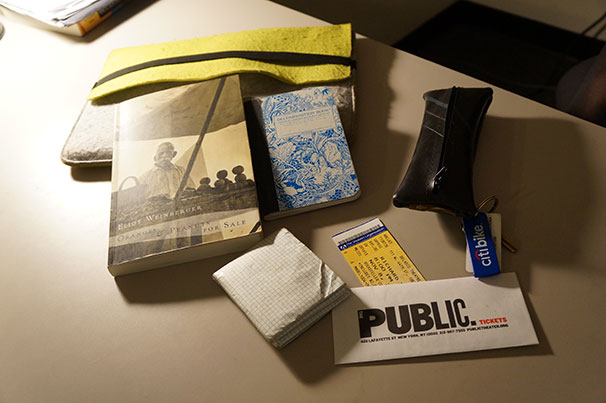 Pencil case, wallet and Decomposition notebook
Zhang's pencil case is sleek and black. In addition to its pleasing visual features, it holds an element of uniqueness, as it is made from abandoned tires. Her wallet and notebook display this same juxtaposition of aesthetics and quirk — both are made from practical materials including reinforced paper and soy ink. This contrast is also apparent in Zhang herself, thanks to her professional yet chic personality in the classroom environment.
"I'm always interested in both form and function," Zhang said.
"Oranges & Peanuts for Sale" by Eliot Weinberger
Zhang always tries to keep a book in her bag so she can read whenever she's made to wait.
"If I'm doing anything that involves any waiting, I will always have a book with me. A collection [of essays] works particularly well because they're self contained units," Zhang said. "Eliot Weinberger is one of my recent discoveries. He combines a brilliant literary sensitivity with an equally attuned sense of political urgency."
Theater tickets
Zhang has two theater tickets lying at the bottom of her bag. One is for a production of Bertolt Brecht's "The Good Person of Szechwan" at the Public Theater on Lafayette. The other is from an all-male production of "Richard III," currently on Broadway, which presents the play as it would have been performed in Shakespeare's day. Theater is one of the many art forms in which Zhang is interested. Because she lives in New York, where artistic opportunity is so rife, she is able to immerse herself in this love of hers.
A version of this article appeared in the Monday, Dec. 2 print edition. Avery Chang is a staff writer. Email her at [email protected]