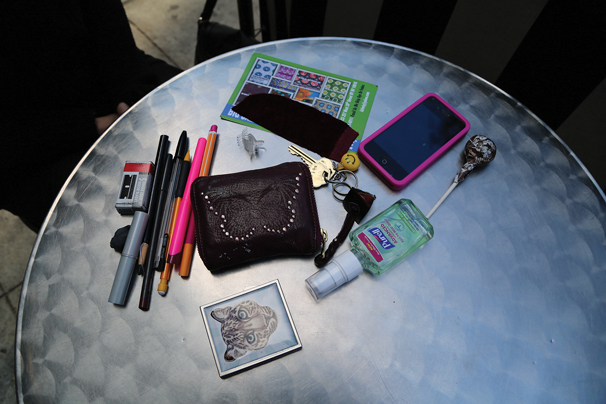 Steinhardt freshman Calli Sara Goldstein, a major in Studio Art, shared the assortment of quirky art supplies and various other contents of her bag — a list of interesting items ranging from red velvet fabric samples to lollipops.
Fabric store coupon and fabric samples
Sometimes for Goldstein's 3-D sculpture class, she has project assignments for which she must incorporate different materials to create unique and multidimensio-nal pieces. For one such assignment, Goldstein scoured the garment district to find different fabrics to match her slip-case.
After sifting through and collecting different fabric samples, Goldstein ultimately chose red velvet and used it to transform a simple lawn chair into a throne. She added a fur strip and tassels to include regal embellishments.
"The concept was that you can make a seat that legitimizes the power of whoever sits on it, but that, in the end, it's just a seat," Goldstein said.
Single blade razors
Rather than carry a personal pencil sharpener, Goldstein keeps a pack of single blade razors in her bag to sharpen her pencils.
"I was taught that you are not supposed to use pencil sharpeners," Goldstein said. "Instead you are supposed to get a blade to expose the core of the lead or even oil based pencil. You use the blades to tool away at the wood to achieve a really sharp long point."
Pens and pencils
Because she does not own a pencil case, Goldstein tosses all her pencils and pens into her purse. She uses them for all of her class assignments, so she can simply open her bag and find one laying around.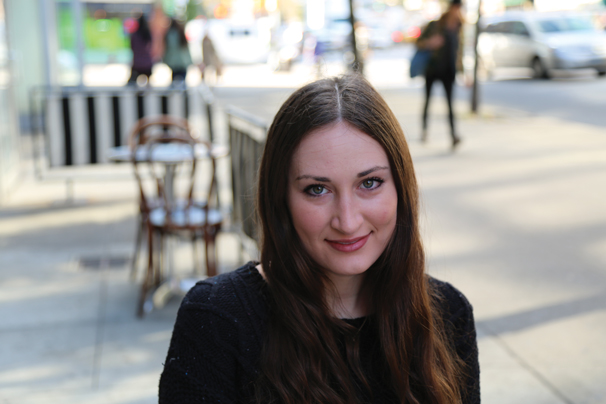 Putty rubber
While putty rubber is essentially just an eraser, there is a story behind the name.
"I call it this because my first serious art teacher was Portuguese and had lived in England, and he always called it a putty rubber, so I called it that ever since," Goldstein said. "I don't know what they're actually called."
Grease pencil
A grease pencil, or draftsmen pencil, is a denser and less waxy crayon. It creates a dark bold line, making it great for sketching. Goldstein likes the confident marks they make, calling them "old school."
Hand sanitizer
"I'm a germaphobe," Goldstein said. Especially living in New York City, Goldstein stays increasingly aware of sanitation.
Miscellaneous
Some other items Goldstein carries in her black leather shoulder bag include her wallet, iPhone, keys, compact mirror, mint gum, Mac Burgundy lip-pencil, Clinique Black Honey lipstick and a hair clip to keep her hair out of her face while hard at work with her art. And for the sweet tooth Goldstein has, she keeps a lollipop readily available.
A version of this article appeared in the Monday, Nov. 25 print edition. Ilona Tuominen is a staff writer. Email her at [email protected]