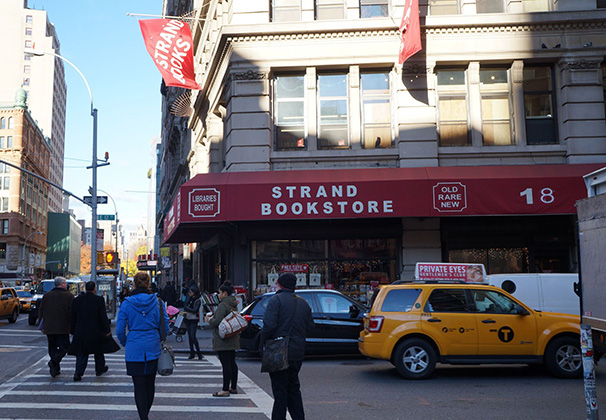 Some homeless New Yorkers said the Strand Bookstore on Broadway is allegedly using the sprinkler system under its awning to prevent the city's homeless from sleeping in front of the store.
Jason Williams, a 35-year-old homeless man, said he was under the awning when the sprinklers turned on.
"They just do it to us to get rid of us," Williams said. "And it's not like they sat out there and told people 'we're doing this, we don't want you sleeping here.' They just went and, unbeknownst to everybody, decided … to clean us off, so to speak."
Williams said Strand put up signs warning people of the sprinklers at some point, but they were removed.
"When they put [the signs] up, we stayed away," Williams said.
Strand, which has operated out of its space at 828 Broadway since 1957, declined to comment on the purpose of the sprinklers.
Marcus Moore, a member of the homeless advocacy organization Picture the Homeless, said the sprinklers are an inhumane way to deal with homeless individuals and that Strand owes them an apology.
"A lot of those people who camp out there, they have the right to continue to be there," Moore said. "They keep those buildings and establishments very clean, and when they go to sleep, that's where they sleep and feel safe. They're not animals. They are homeless New Yorkers."
LS sophomore Nicolas Gutierrez, who shops at Strand, said he overheard people talking about the situation while he was on the subway.
"It seemed like a rather brutish way of clearing people out in the morning," he said.
Williams said he also thinks the sprinkler treatment is inhumane.
"I'm still a person regardless of my station in life," Williams said. "So to be abused by them just because they see me as less, I think it's horrendous."
Moore said he is concerned with health issues that arise from the sprinkler system.
"They're endangering the people's health," he said. "They already have to sleep out in the cold."
Donny Woods, a 57-year-old man who often sits near Strand, commented on the possible problem the sprinklers could have on people's health.
"We care about homeless people, and we wouldn't want them to be soaked up," Woods said. "They could easily die from pneumonia or catch a very bad cold."
Woods said Strand should be handling the situation differently.
"Refer them to a place where they can have decent shelter instead of in front of their place," Woods said.
Moore said he's concerned that the sprinkler use will continue, especially if consequences do not arise.
"Caring New Yorkers do not do this to one another," Moore said. "Caring New Yorkers help each other in a time like this here because housing is scarce."
A version of this article appeared in the Wednesday, Nov. 20 print edition. Ann Schmidt is a staff writer. Email her at [email protected]