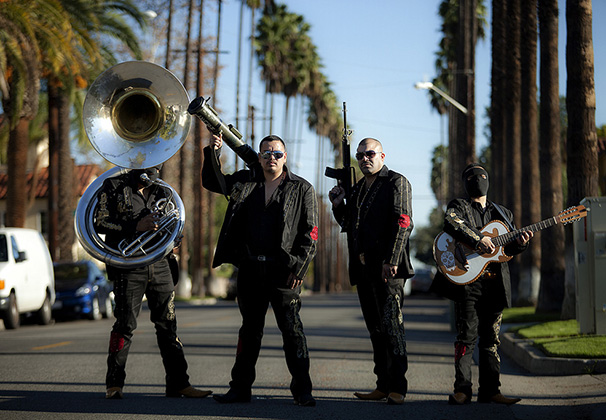 While eating dinner in his hometown of Ciudad Juárez, Mexico, Richi Soto's family members urge him to leave his job. Worlds away in Los Angeles, Eugene Quintero hands his wife a wad of cash and simply says, "Savings."
Shaul Schwarz juxtaposes the lives of Soto and Quintero in his latest documentary, "Narco Cultura," to represent the opposing impacts of the Mexican Drug War. Staying true to his roots as a photojournalist, Schwarz retains his minimalism by using a cinéma vérité style for the majority of the film. In doing so, he fearlessly digs deep into the subject in a way unseen before, while also challenging the viewer.
Soto's job as a crime scene investigator places him at the forefront of the war. He and his colleagues fear that they will end up as one of the bodies they frequently find in pieces in fields or blackened in a car. To reduce the risk of retaliation by cartels, they wear ski masks to crime scenes. Back in the office, their unmasked faces show their frustration. As Soto explains, rampant corruption will prevent any of the murderers from being brought to justice.
Across the border in California, safe from the threats of cartels, Quintero and his band, Buknas de Culiacan, continue to create narcocorridos, a growing music genre glorifying the cartels that are destroying Ciudad Juárez. While Soto is shown weaving through grieving families to reach a crime scene, Quintero is shown writing a song for a cartel leader, asking him how he would like to be referred to in the song and what kind of gun he carries.
Soto contemplates leaving his beloved Juárez for El Paso, Texas. Quintero expresses his desire to go to Mexico. Quintero has been seduced by the glamour — he is unaware of its true grittiness and the destruction Soto sees. Quintero educates himself on the culture with the Internet, mentioning his favorite website that includes pictures of the mutilated bodies that Soto is exposed to in his job.
Schwarz supplements his original footage with a video that went viral online. After learning of her son's cartel-related death, a woman delivers an emotionally driven outburst. She cries, "Shout, Juárez, shout. Shout about the pain they are causing. Why doesn't anybody shout?"
"Narco Cultura" also fails to shout, unfortunately. Despite the explosive subject matter, the film is quiet. Shaul Schwarz has made a film that should be seen, yet the somber tone doesn't leave the impact it should. Perhaps the bleak mood is symbolic of the bleak outlook of Juárez and the Mexican Drug War — but perhaps like those involved with the cartels, the film is also not critical enough of the situation it depicts.
A version of this article appeared in the Wednesday, Nov. 20 print edition. Marissa Elliot Little is a contributing writer. Email her at [email protected]