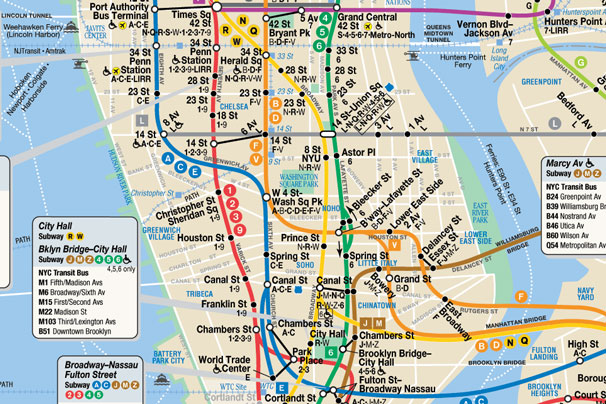 Getting lost in the city can be considered a rite of passage for newcomers — but there are quite a few ways to get around this mazed of a city.
The Subway System
The New York subway system is a convenient way to travel once you understand how it works, since $2.50 will get you unlimited rides each time you enter the station. There are a lot of different train routes, so make sure you know which train you need to board before swiping into a station, since not every station contains every train. Google Maps will give possible routes until you lose service in the station, and apps like Embark NYC work even with no cell signal.
Biking in the city
Much like how drivers need to be aggressive here, a bicyclist needs to be prepared and paying attention if they don't want to regret leaving their helmet home. It can, however, be a cost-effective and healthy way to travel from place to place quickly. NYU has a BikeShare program offered to students and faculty that loans out bikes for the day; they have stations set up at Kimmel and every dorm. And watchful eyes may notice the bright blue Citibike stations around the city, where you can pay to bike from one station to another.
Hailing a Cab 
Although more expensive than the subway, taxi cabs can take you directly where you're going. To get a cab driver's attention, just stand as close as you can to the road without standing in it, and put your hand in the air. If the cab driver isn't already with a customer, they'll stop for you. To tell if a cab is empty, look at the sign on top; if the number on it is lit up, it's free and looking for fares, while an unlit number or an "off-duty" light means you need to keep looking.
– Jonathan Keshishoglou