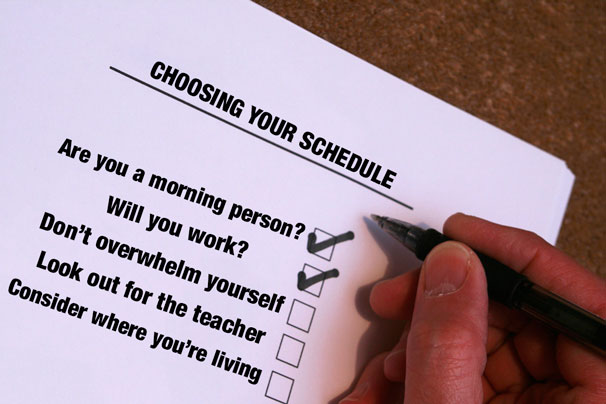 Are you a morning person? 
Some people are up with the sun every morning, but for others, barely rolling out of bed is a tremendous effort. Consider which type you are when scheduling your classes.
Will you work?  
For people who don't want to find themselves without spending money, you'll want to take into consideration the hours you will be working. In these cases, the best strategy would be to block your classes — schedule all of your classes in the morning to have a few hours to work.
Don't overwhelm yourself
The most important step in compiling a schedule is to be honest about what you can handle. Don't take four of the hardest classes of your college career in one semester — you're only guaranteeing yourself a tough four months. Think about the work load before finalizing your schedule.
Look out for the teacher
A teacher can make or break a class, so you want to be sure to choose a good one. Talk to other students, or even keep ratemyprofessor.com open while scrolling through Albert. Take note of the hotness rating — having a professor that is easy on the eyes is scientifically proven to improve learning in the classroom.
Consider your commute
Not everyone can live two minutes from Washington Square Park — for some of us, on-campus housing still means classes can be only a bus ride away. If you have a long commute to class, don't pick an 8 a.m. and don't space your classes out unless you want to spend all day trapped on campus.
— Klein Aleardi