SLAM protests student debt outside Gould Welcome Center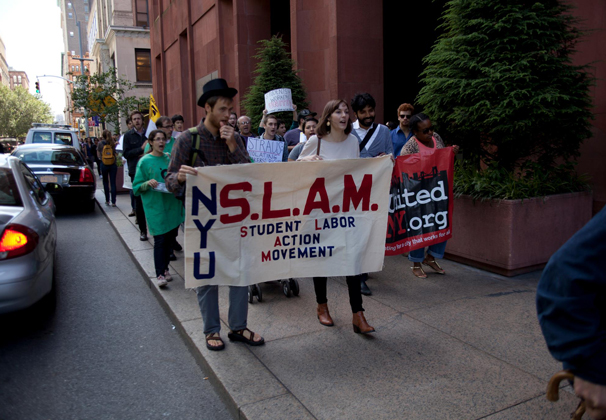 The Student Labor Action Movement held a Speak Out event outside of the Gould Welcome Center on Nov. 15, inviting fellow classmates to protest rising student debt with them.
Gallatin senior and member of SLAM Daniel Jones said the purpose of the event, which attracted around 30 people, was to connect indebted students.
"One of the biggest obstacles in really being able to address the student debt crisis here at NYU is the fact that students feel so isolated in dealing with these financial problems and feel a certain type of stigma or shame that comes along with their debt," Jones said.
SLAM distributed pamphlets with statistics of NYU's average student debt and criticism of the 2031 Expansion Plan budget. Protesters also passed out instructions to navigate how to appeal for more financial help with the Financial Aid Office.
The Speak Out also consisted of original songs against debt and six students sharing their debt stories.
Gallatin junior Sophie Lasoff said she has had problems with the financial aid department not acknowledging her financial situation.
"For the past year and a half I've been going to school part time so I can work 40 to 45 hours a week and pay for housing and food and school all out of my own pocket," Lasoff said. "NYU doesn't care that I don't get any money from my parents."
SLAM members re-announced their demands for a 10-year freeze on the cost of tuition and a 25 percent increase in the average financial aid grant.
University spokesman John Beckman said SLAM's demands are not feasible.
"Their hearts may be in the right place, but their math simply doesn't add up," Beckman said. "There is no greater concern at NYU than improving scholarship aid and reducing student debt, but a 10-year tuition freeze ignores financial realities."
Beckman said faculty salary increases, the costs of services and energy, healthcare cost increases and investments in technology, scholarship, renovations and student services all contribute to the rise in tuition each year.
He added that the Momentum Campaign is addressing SLAM's second demand.
"The effects of [the Momentum Campaign] will start to be felt next semester when graduating seniors who receive financial aid will get Finish Line grants of up to $5,000 — depending on their need-based federal loan amounts," Beckman said.
According to "NYU by the Numbers," NYU's average financial aid award has increased from $8,960 in 2002 to $23,721 in 2012. The average grant has increased by $14,761.
Gallatin sophomore and SLAM member Robert Ascherman said the Momentum Campaign is just like the other fundraising initiatives in the past.
"They keep raising how much they're going to give students in accordance to how much they're raising tuition so that the net gain for students is minimal to nothing," Ascherman said.
Ascherman added that the Finish Line Grant does not address the problem of students dropping out early on in their academic career.
Cassandra Cassillas is a staff writer. Email her at [email protected]