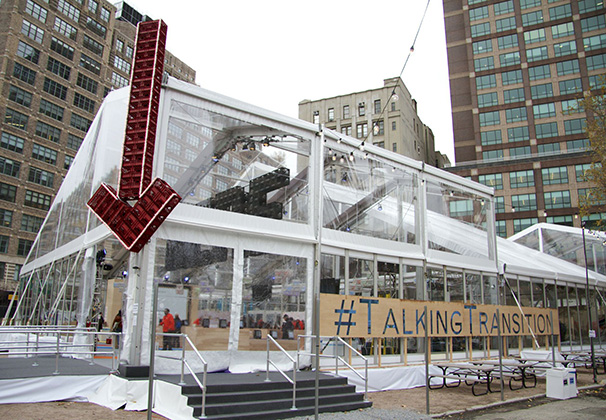 The Talking Transition Tent opened in SoHo on Nov. 9 for New Yorkers to voice their concerns about any issue around the city to aid the transition from New York City Mayor Michael Bloomberg to Mayor-elect Bill de Blasio.
Ten organizations started the transition tent to improve city policies and open the transition process to residents. Project director Danny Fuchs has two goals for the tent.
"One is a new mode of citizen participation in government," Fuchs said. "The second goal is to take those ideas and those issues and the data we collect and inform the new administration and how it governs."
In the tent, located at Canal Street and Sixth Avenue, visitors can explain the changes they want by leaving a video message for de Blasio or writing on a name tag and posting it on the wall. So far, people have written about a variety of topics — from keeping a donation-based entrance fee at the Metropolitan Museum of Art to ending the stop-and-frisk policy.
Brooklyn resident Susan Brenna heard about the tent via Twitter. Her tag read, "Kids spend 80 percent of their waking hours not in school."
Brenna said she likes the convenience of the project.
"They are making it very easy for people to express their opinions," she said. "You can do it online, you can do it on the wall, so I mean, why not?"
Every day, public officials, advocacy organizations, public service providers and other speakers host conversations about ideas and policies that the new administration could adopt to combat those issues. Fuchs said people are anxious to be a part of the project.
"Since we launched the website, we've been completely inundated with requests, people who want to be part of the conversation and want to lead the conversation," Fuchs said.
In addition to the tent headquarters, more than 100 street surveyors, who speak 19 languages, schedule visits to 100 locations throughout the five boroughs. Three mobile tents serve several locations every day with miniature versions of the conversations that take place in the larger tent.
TalkingTransitionNYC.com allows people to fill out surveys that ask how issues are being handled and whether they are improving or worsening.
On Nov. 23, the last day of the project, some visualizations and a synopsis of the collected data will be released to the public. In mid-December the findings will be presented.
LS sophomore Madeline Hunter said she would write, "Increase the efficie-ncy of the subway system," on her tag, but does not foresee promising results.
"I think [the tent is] a good idea," Hunter said. "I don't actually think it will be effective because de Blasio is not going to be held responsible for it. He has full right to ignore any of it."
A version of this article appeared in the Wednesday, Nov. 13 print edition. Klein Aleardi is a staff writer. Email her at [email protected]