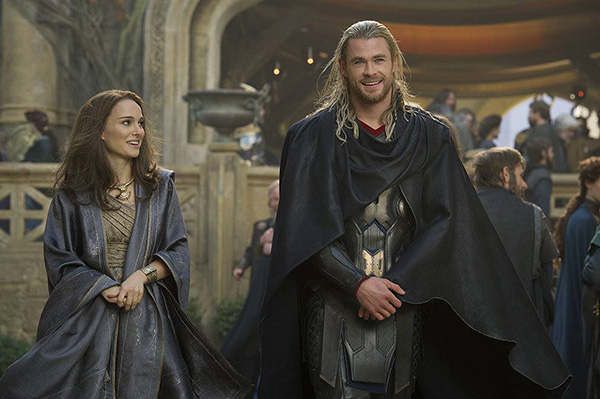 In one of the biggest movie events of the fall, America's favorite Asgardian, Thor, returns for another epic adventure.
In the aftermath of "The Avengers," Marvel Studios has held strong with "Iron Man 3," the highest grossing film of the year, and "Agents of S.H.I.E.L.D.," a frontrunner for one of the fall's breakout television series. But Marvel's parent company Disney is still coming off of two major flops with "The Lone Ranger" and Dreamworks' "The Fifth Estate." Disney is putting a lot on Thor's shoulders this last quarter — so it's good that he is a god.
The first "Thor" was a solid film, despite many considering it one of the weakest in "The Avengers" canon. Heavy on exposition, it introduced audiences to Thor, the God of Thunder and Son of Odin, King of Asgard. "Thor: The Dark World" kicks off by introducing the new villain, Malekith, and his fleet of Dark Elves, who tried to take over the Seven Realms and shroud them in darkness using their weapon, the Aether.
Fortunately, Odin's father Bor kills the Dark Elves, but Malekith escapes. Bor then hides the Aether, hoping no one will find it. Fast forward 5,000 years where Jane (Natalie Portman) finds a portal in London and falls into the hiding place of the Aether. This action awakens the Dark Elves, who in turn wreak havoc on Earth and Asgard while they search for Jane. Their goal is to extract the Aether and destroy Asgard, ultimately bringing darkness to the Seven Realms.
Thor, of course, is the only hope for the Seven Realms. With the help of Jane and Thor's devious brother Loki (Tom Hiddleston), Thor devises a plan that could save the world — but if it fails, the Dark Elves win.
It's safe to say that audiences are more excited to see "The Dark World" than the first film because "The Avengers" was a box office success, and that excitement will not go unrewarded. There is more action in "The Dark World," and it is packed with pleasant surprises, such as unexpected cameos, clever twists and spaceship chases that evoke some of the best of past sci-fi films.
The only struggle for "The Dark World" is how it fits decades of Marvel lore into its exposition. Those unfamiliar with the history of Thor can still disregard any background knowledge and enjoy the movie for what it is — a very entertaining action-adventure film that plays more like science fiction than a standard superhero movie. "Thor: The Dark World" might not be an important piece in the grand scheme of Marvel's second phase of films, but it is sure to dazzle audiences with its action and humor. And be sure to stick around past the credits as well — two bonus scenes are included.
A version of this article appeared in the Thursday, Nov. 7 print edition. Marcus Jones is a staff writer. Email him at [email protected]