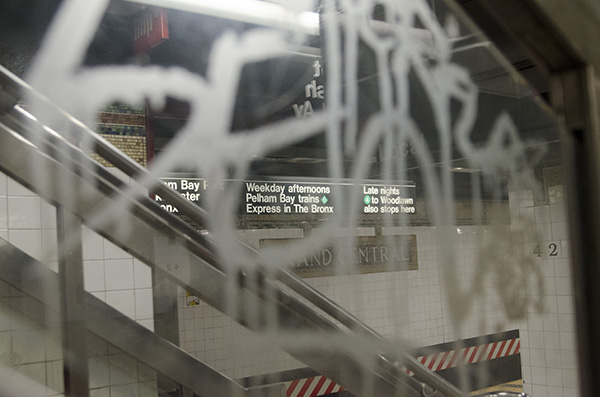 Dirtiness is commonplace in New York City's subway platforms, but a new study has found increasing levels of filth.
The New York Public Interest Research Group's Straphangers Campaign conducted a census of New York City's subway platforms and rated certain elements of cleanliness. The third annual "State of the Platforms" report, detailing results of the 2013 summer census, was released on Oct. 30.
Straphangers Campaign spokesperson Cate Contino said this year's census included all 862 open platforms, an increase from 2012's census of only 120 stations, thanks to a team of 21 staffers and interns.
Even though all measured factors have worsened since the summer 2012 census, the study found that four of the factors — exposed wiring, missing tiles, graffiti and floor cracks — have become "substantially worse" over the past year.
"Many subway platforms are grim and dreary," Straphangers Campaign field organizer Jason Chin-Fatt said in a press release. "Making observations at every platform allows us to paint a more in-depth picture of the conditions that riders experience [while] traveling through the system."
The study measured staircase and handrail disrepair, rats, broken lights, peeling paint, water damage, exposed wiring, missing tiles, graffiti and floor cracks. Notably, 32 percent of all platforms have substantial amounts of graffiti.
However, Metropolitan Transportation Authority spokesman Kevin Ortiz said the MTA's data does not show an increase in graffiti.
"Over the last 3 years we have consistently met our goals of removing 98 percent of reported graffiti hits on time, within 72 hours of being reported on painted surfaces within station confines," Ortiz said.  "Graffiti on tiled surfaces is removed daily, upon discovery by a cleaner. Also, the number of reported graffiti hits has steadily declined over the last few years. Again, graffiti on track walls require track access and would impact service."
The Straphangers Campaign's report also stated that almost 84 percent of underground platforms experienced substantial water damage, but Ortiz said water damage is difficult to repair.
"At this time, the only available treatment is chemical grouting and drip pans, other than excavation from above and applying new waterproofing, which is cost prohibitive," Ortiz said.
Ortiz said the issues addressed in the census are a low priority for the MTA because maintaining a perfect condition would be costly.
"Our operating and maintenance forces have identified and repaired more station defects each of the last few years than ever before, and we are on target to surpass last year's results," Ortiz said. "In 2012, over 39,000 defects were repaired, and we are projected to complete more than 53,000 in 2013, a 36 percent increase."
LS freshman and New York City resident Abbey Rowe said the conditions of the subway platforms bother and disgust her.
"I don't particularly enjoy having to wade through a cesspool to get somewhere," Rowe said. "I shouldn't have to gingerly circumnavigate a puddle of vomit, a heap of garbage nor a nest of rats."
A version of this article appeared in the Thursday, Nov. 7 print edition. Patrick Anker is a staff writer. Email him at [email protected]