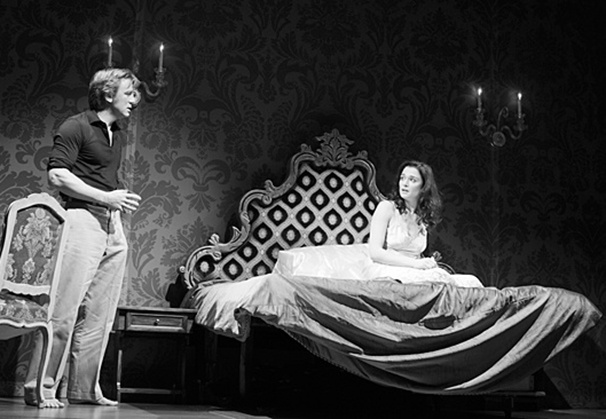 A lust-filled story of a dark love triangle, the revival of Harold Pinter's 1978 play "Betrayal" is a timeless and engaging production starring real-life couple Daniel Craig and Rachel Weisz and is currently playing at the Ethel Barrymore Theatre. As unha-ppy couple Robert and Emma, Craig and Weisz portray a relationship that falls apart when Emma tells her husband of her affair with Jerry (Rafe Spall), Robert's best friend.
The play, based on Pinter's real-life affair with journalist and broadcaster Joan Bakewell, is primarily concerned with the nature of lying and explores how deceit can be revealed through warped timelines. Pinter has the audience obsessively counting backward as each scene delves deeper into the past. Further ironies are revealed as each character is shocked at being lied to. This lack of chronological order becomes the key to unlocking the mystery of the many betrayals between husband, wife and lover. "Betrayal" opens after Emma has walked out on both the affair and the marriage, and concludes with the first kiss of the affair. The masterfully built structure leaves people questioning whether human relationships can actually be honest.
Craig, dressed in sweaters and khakis, feels at home on the stage. He is simultaneously terrifying and sexually enchanting to both the players and the audience. His facade of self-control, which breaks in silent, angry moments with Weisz, reveals the ever-present pressure to maintain social politeness. While Weisz fills her role nicely, she unfortunately does not probe the full complexity of the character in her first Broadway appearance.  Her movements are small, coming off as meek. This becomes more apparent in her interactions with Spall and Craig, both of whom are captivating and dynamic in movement and speech. Emma, usually a powerful and enchanting character who walks out on both lover and husband, falls short next to the men in this rendition.
There is no doubt that this play is relevant and perfectly pointed for any generation. The additional homosexual overtones added by Craig and Spall in the form of a light touch or an overt line delivery makes the plot all the more enthralling. Their perceived relationship alienates Weisz further from any sort of control in the action, and leaves the stage oozing with lust.
This well-executed revival is simplistically brilliant in its set design. Ian MacNeil's flawless set glides on and off stage to the original orchestrations of James Murphy. The transitions manage to take place with both seamlessness and captivation. Within the proscenium, a deep white box is created. Within this white box, the contents of different rooms slide onstage while bedroom and living room walls descend from the ceiling, creating a diorama in which the domestic action takes place — thus intensifying the feeling that the audience is peeking into an obscured series of events. From the giant flashing date before each new scene to the sunflower tablecloth, the set is a wonderful supplement to Pinter's play.
A version of this article appeared in the Wednesday, Nov. 6 print edition. Blair Simmons is a staff writer. Email her at [email protected]