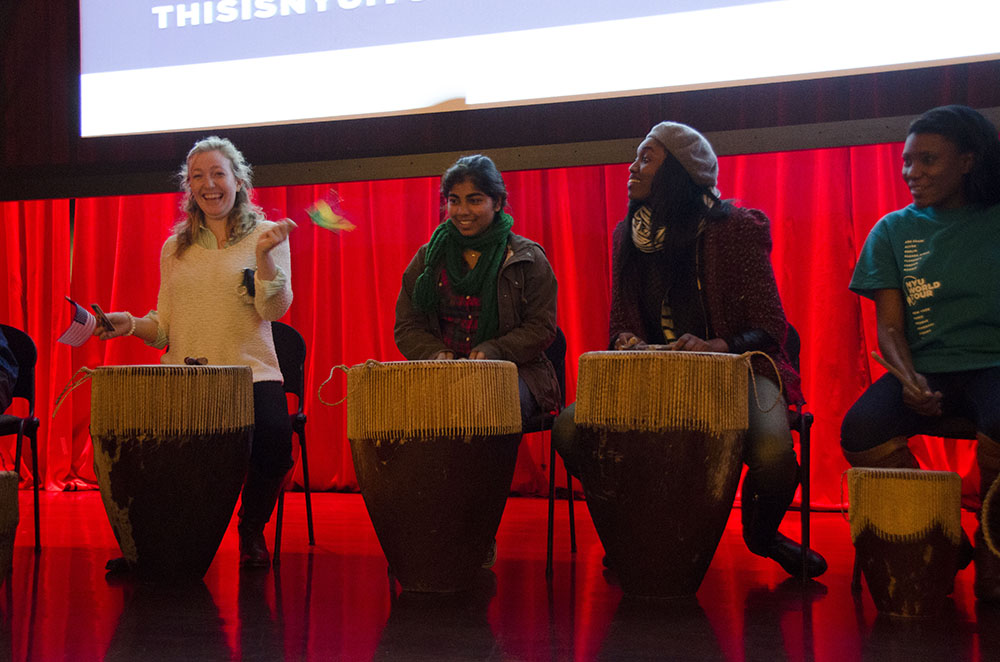 The Division of Student Affairs hosted the Grand Bazaar in the Kimmel Center for University Life as part of the NYU World Tour.
Co-director of the Center for Spiritual Life Marcella Runell Hall co-chaired the event with assistant vice president for Student Diversity and director of the Center for Multicultural Education and Programs Monroe France.
Hall said the event was meant to commemorate the global sites and educate students on NYU's global presence.
"The goal of the NYU World Tour is to celebrate and highlight the global culture of NYU," Hall said.
The Grand Bazaar was held in the Eisner & Lubin Auditorium on Oct 31, and each study-away site was represented with a booth holding information about the site and samples of food from the country. Various musicians, comprised of students, alumni and recruits, presented musical performances with instruments originating in the study abroad countries.
When students entered the room, they were handed a passport — a card with a list of each country represented at the event. The booths checked off the corresponding country and after the card was filled, the students could use it to enter a drawing for a variety of giveaways.
CAS sophomore Lauren McKenzie said the event could excite people who are planning to study abroad.
"It's a good way to get people pumped about studying abroad," McKenzie said. "I don't know if [the bazaar] has that exact effect, but I think it makes it more exciting to see what's there."
Program administrator for New and Transitioning Student Programs Zachary Harrell said there were also events held at different study abroad sites.
Harrell said the quality of the event has improved since the Global Fest last year, adding more decorations, food, prizes and performances.
"It's great to see all the students here," Harrell said. "I think the room's been pretty packed all day, which is really exciting."
Guido Ditto, creative strategist of Student Affairs, said he was surprised by the turnout of the event. He said last year's event was postponed because of Hurricane Sandy, and the turnout was much less than this year's.
"It's more than I expected," Ditto said. "We probably didn't see this much of a turn out [last year], and I was expecting something similar to that."
Ditto said the planning for the event began about three months ago and was carried out by several groups. One group planned the event, one planned the film festival, which was taking place across the hall, and one recruited volunteers.
SCPS graduate student, Elba Zapata, found the Grand Bazaar to be a good change from other NYU events.
"It is something different from all the events we heard about," Zapata said. "This is the best event that I have been to."
Klein Aleardi is a staff writer. Email her at [email protected]