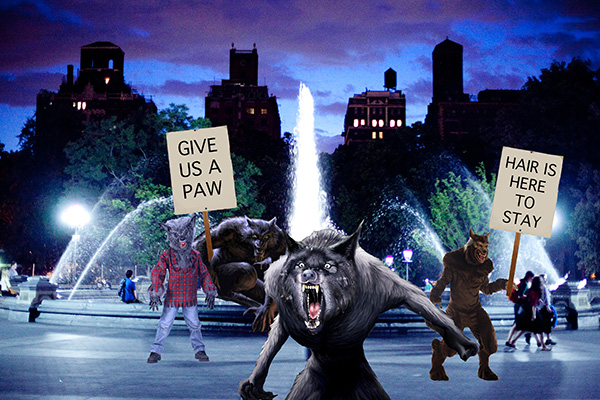 As another No-Shave November approaches and men around NYU prepare to let their facial hair grow for the entire month, a student organization is howling with anger over how it makes a mockery of their lifestyle.
The NYU chapter of the Worldwide Organization of Lycanthropy Facilitation is protesting the annual event to raise awareness for men's health, saying the movement neglects that werewolves are hairy year-round.
"It's despicable, like they forget we have to go through this every month," CAS sophomore Scott Howard said.
WOLF members said they would be demonstrating in Washington Square Park under the next full moon to inform passersby about the struggles of lycanthropy. WOLF leader and Stern super senior Larry Talbot said this might be the start of several demonstrations.
"The WOLF pack is ready to make this a regular thing," Talbot said. "Signs have already been made saying 'Give us a paw' and 'Hair is here to stay.'"
Talbot did not say how the organization will be able to hold the signs once in wolf form.
"It's a matter of principle, man," said Tisch junior Daniel Osbourne, a self-proclaimed "wolfer," as WOLF members prefer to be called.
"If they really cared about men's health they'd try to find a cure for werewolfism," he said. "Those Movember guys voluntarily attract attention because of their facial hair. We aren't so lucky."
Howard, who was a star basketball player in high school, said he has endured frequent mockery while attempting to play as a lycanthrope.
"People barely treat us as humans now," Howard said. "We're only wolves for a couple days a month. We put on our pants one out of four legs at a time, just like anyone else."
The wolfers meet weekly to discuss ways to combat lycanthropy. However, several non-wolfers have said the meetings do little to dispel werewolf myths.
"The food table is always full of raw meat, and the meetings tend to devolve into vampire-bashing sessions," CAS freshman Xander Harris said.
"At the end of the day, it's all to educate the masses about how, underneath our beautiful manes, we're just misunderstood," Talbot said. "And really hungry."
This story is part of our fictitious coverage in celebration of Halloween 2013. All people and events in the story are fictional.
A version of this article appeared in the Thursday, Oct. 31 print edition. Dean Winchester is a demon hunter. Email him at [email protected]