Teams present rebuild designs a year after Sandy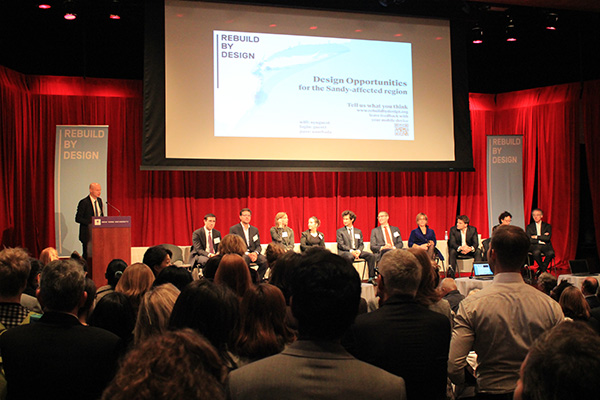 Ten teams at Rebuild by Design presented their newest designs at a breakfast reception at NYU's Kimmel Center for University Life on Oct. 28.
An initiative of President Barack Obama's Hurricane Sandy Rebuilding Task Force, Rebuild by Design is sponsored by the U.S. Department of Housing and Urban Development and The Rockefeller Foundation. After over 100 applications were narrowed down to 10 teams in June, the groups designed a total of 41 ideas for rebuilding the regions affected by Hurricane Sandy.
The 10 teams proposing plans included BIG Team, HR&A Advisors Inc. with Cooper, Robertson & Partners, Interboro Partners, MIT+ZUS+URBANISTEN, OMA, PennDesign/OLIN, Sasaki/Rutgers/Arup, SCAPE/LANDSCAPE ARCHITECTURE, unabridged Coastal Collective and WXY/West8. Each of the teams presented multiple proposals, which are also featured on the Rebuild by Design website.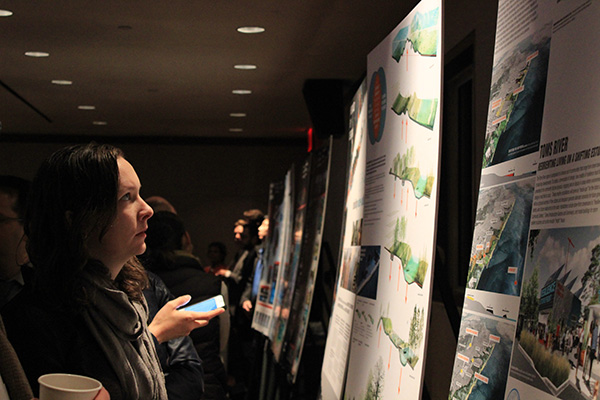 Jeremy Siegel, a designer with Bjarke Ingels Group and member of the BIG Team, said he and his teammates are learning more about the impacts of flooding.
"Flooding is something that hasn't really been part of the discussion in architecture and urban design," Siegel said. "We're learning a lot about how cities react to flooding and how cities might have to change as a result."
BIG focused on building on the waterfront. Siegel said one of the team's ideas requires building a U-shaped, nine-foot wall, creating a large bench that would provide social benefits.
"Use the fact that you're building anew to actually raise the land or make protective measures, but in a way that's integrated," Siegel said. "If you integrate buildings with [the wall], if you integrate parks, then [the wall] becomes a thing that is a benefit for the city and not a detractor from the city."
Abbie Rudow, a second-year urban planning student at the Wagner Graduate School of Public Service, was surprised by the BIG's proposal.
"I was struck by how much of an emphasis there is on being on the waterfront," Rudow said. "Part of me still finds it kind of scary. I think I still have to be convinced that the waterfront is a place for strong infrastructure."
Claire Weisz, a fellow of the American Institute of Architects and a founding member of WXY Architecture + Urban Design, said design is the first step in making a change.
"Everything's design," Weisz said. "So the idea of actually having a design discussion about our future, basically, it admits that we [were] going to design something at some point. Well let's start now."
Each of the teams will have until March to develop their design into a solution that will be evaluated by a competition jury, which will receive feedback from experts, stakeholders and the public.
A version of this article appeared in the Tuesday, Oct. 29 print edition. Klein Aleardi is a staff writer. Email her at [email protected]