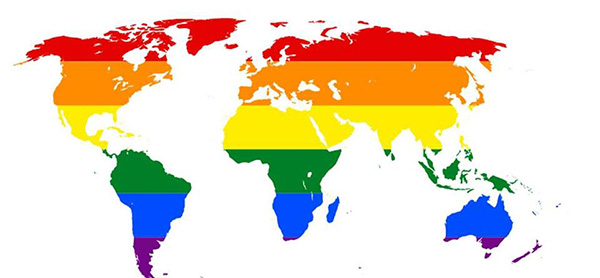 A discussion about preparation for NYU LGBTQ students who are planning on studying away took place at Pless Hall on Oct. 28.
The event, titled LGBTQ & Studying Abroad: NYU Perspectives, consisted of a panel of NYU LGBTQ students and alumni who shared their experiences of studying abroad. The event was moderated by Marc Caporiccio, a graduate student at the Steinhardt School of Culture, Education and Human Development, who wanted to start a dialogue between student and alumni who have cross-cultural LGBTQ experiences with other students planning to go abroad.
Among those speaking on the panel was Steinhardt graduate student Dena Lagomarsino, who studied abroad in South Africa.
"I definitely think that for marginalized students, studying abroad is a really important experience to have," Lagomarsino said. "It gives you the space if there's someone you've always wanted to be and you feel like you can't be that person at home."
The complexities of identifying as LGBTQ abroad were raised during the panel. NYU Abu Dhabi senior Tom Taylor, who has studied abroad in New York City and Paris, spoke at the panel through Skype and said students sometimes experience coming out a second time when they are abroad.
"What's interesting for me personally is working out when you come out and who you come out to," Taylor said. "There's a more conscious decision-making process there than you might have back home in New York."
Panelists also discussed whether students should be provided with information on LGBTQ services in the host country.
"I'm hesitant to say that every program should provide this, this, and this, because part of studying abroad is vulnerability, experiencing as international students the daily challenges and cultural differences," Caporiccio said.
Student Services Coordinator at the Tisch School of the Arts Sarah Ryndak attended the panel and said having LGBTQ students feeling comfortable and safe while studying away is imperative.
"I would love if we could connect with the LGBTQ center here, and have references, whether that's an alum, links, travel guides or resources, that we could connect students to," Ryndak said.
Speaking after the event, Caporiccio said he saw the panel as a starting point for a larger conversation on what it means to be LGBTQ and studying abroad.
"I have some meetings set up with representatives in the Office of Global Services, the Center for Multicultural Education and Programs and the LGBTQ center," Caporiccio said. "I would like to see what resources have been offered in the past, and to see what we can develop moving forward."
A version of this article appeared in the Tuesday, Oct. 29 print edition. Tommy Collison is a contributing writer. Email him at [email protected]