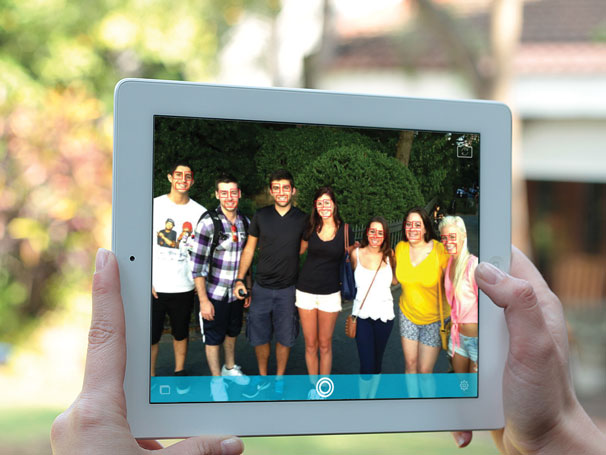 Just two weeks since its launch, NYU-Poly freshman John Meyer's app Perfect Shot has received an overwhelming 50,000 downloads — and counting — on the App Store.
Perfect Shot, a photography app, functions when the user is taking an iPhone photo, detecting both the eyes and mouths of people so the shutter only releases when all subjects are looking at the camera and smiling.
Featured by Apple, the app has already reached a worldwide audience — it's been downloaded by iPhone owners in over 17 different countries.
Meyer is no amateur in the realm of app development. He began his venture into the technology field in 2008 as a freshman in high school. In the past, his company TapMedia has developed a flashlight app, which capitalizes on the iPhone's flash function on the camera, and an app that integrates an underwater video screensaver with music and information about the species swimming across the screen.
Frank Cicio, founder of iQ4 Corporation, has previously worked with Meyer on developing apps.
"Some entrepreneurs get lucky with a big hit, but some have a special gift," Cicio said. "While John has a number of early successes, his best is yet to come."
Perfect Shot user Felix Chan, a Gallatin freshman, said the app could be useful for posed shots.
"I mostly take random, funny pictures with friends, so I don't know how much I'd actually use it. But it would be helpful for serious pictures," he said.
Not only is the app helpful for iPhone photographers, but it has also been praised by reviewers such as 9to5Mac for its aid to users who are blind, as the photographer does not need to see the subjects to ensure they are ready and in the shot.
"I had never really considered how this app could be useful to people with disabilities," Meyer said. "So now that it's been brought to my attention, I'm working on furthering the app to where it will actually talk to you. The Perfect Shot app would then tell you basically what the screen looks like and when the camera is ready."
Now that Meyer is in New York City, he's looking to expand because of his app-developing success.
"It's almost impossible not to find people here I want to work with," Meyer said. "I'd love to build a team, composed ideally of NYU students."
With plans of adding partners to his new app projects as well as finding an office space, TapMedia will continue to grow. But in the end, Meyer said his main focus is centered on app users — the app is free with an in-app purchase to remove ads, so all iPhone users can access it.
As Perfect Shot continues to evolve, Meyer is already planning endeavors for future applications. His plans for a staring contest app are underway, as an app targeted toward children to compete against an automated phone. It would also serve as a staring contest platform for friends, with a set-up similar to FaceTime.
"I just love the feeling of creating something that many people can enjoy," Meyer said. "Something that hopefully can be useful to everyone."
A version of this article appeared in the Monday, Oct. 28 print edition. Hannah Treasure is a staff writer. Email her at [email protected]