Former students explore campus changes, events for Alumni Day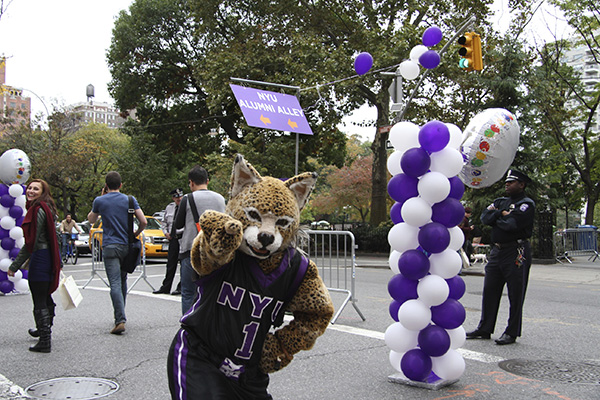 NYU's annual Alumni Day was full of seminars, reunions and a State of the University address from NYU President John Sexton.
"The purpose of Alumni Day is to provide an opportunity for alumni to reconnect with each other and their alma mater," said Brian Perillo, the associate vice president of alumni relations.
Larry Mantrone, who graduated from the School of Continuing and Professional Studies in 2010, serves as the co-chair of the Alumni Day committee. Mantrone said Alumni Day 2013 has been in the works for the last year.
"Over the past year we've had a number of meetings, great conversations with various staff from alumni relations to plan for this day," Mantrone said. "It's a real tremendous feeling of excitement to see it all come together."
As part of the event, Sexton discussed a new fundraising campaign, "Building Momentum: Unlocking Potential, Unleashing Ambition," aimed at raising $1 billion for financial aid.
"I think what's happening in this country around higher education is lamentable and I'm very worried about it," Sexton said, addressing alumni. "All of you should be out there saying, education is a right and we should figure out a way to match kids with the best schools they can go to, that which will bring out most of their talent and we should then give to those kids all that you can."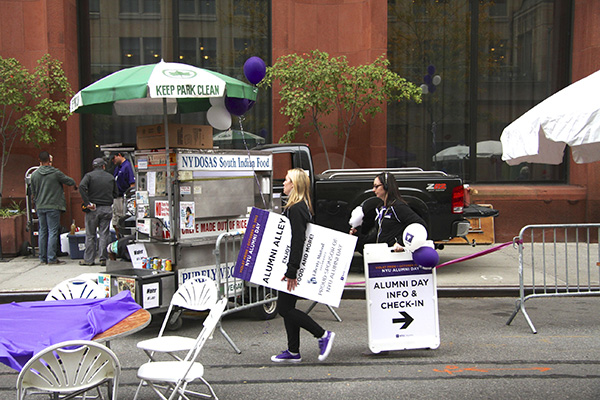 Alumni also gathered for induction into the Perstare Society, a society open to alumni who graduated at least 50 years ago. Alumni from the class of 1963 and earlier were inducted into the society. During the day's breakfast, grads present reflected on how the university has evolved since they attended.
"We only had Loeb Student Center," said Helen Schultz, a class of 1963 graduate. "I'm so impressed with how this became such a global school."
The day also featured a variety of seminars. Morning seminars included robotics sessions hosted by the Polytechnic Institute of NYU and Hooked Up: A New Generation's Surprising Take on Sex, Politics and Saving the World. Afternoon sessions included The Talking Dead: Our Fascination with the Undead and The God Particle, where physics Professor Kyle Cranmer talked about his contribution to discovering the Higgs-Boson particle.
Tom McEachin, a graduate form the class of 1973, attended the Hooked Up seminar in the morning.
"I have two sons who are in that age range," McEachin said. "But it was good to kind of hear the students describe their feelings about how things work today and how it impacts their lives."
Attendees came to see old friends, meet new ones and explore the changing campus. Lillian Marks, a graduate from the class of 1928 with a degree in history, has been coming to Alumni Day since she was in her 40s. She returns each year for the memories.
"I feel that NYU has made it possible for me to do some of the things I have done," Marks said.
A version of this story appeared in the Monday, Oct. 21 print edition. Klein Aleardi is a staff writer. Email her at [email protected]