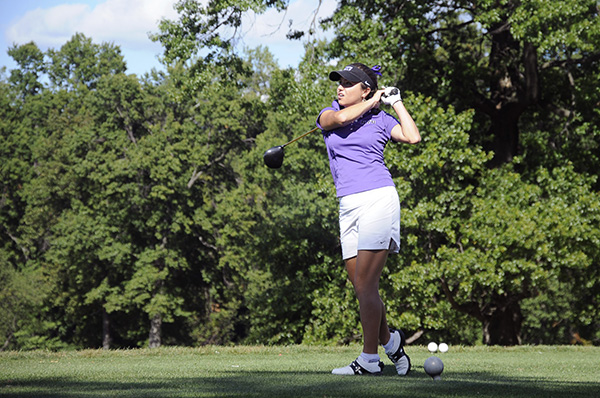 Ithaca College hosted the New York State Championships on Sunday, Oct. 13, where NYU's women's tennis team finished its fall season.
Sunday concluded tournament play, where two number-one seeded Violets — Gallatin junior Mari Tzakis and LSP sophomore Madeline King — competed in the finals but ultimately fell short. Tzakis was defeated by the number-three seed from Skidmore College and King fell to the number two seed from Vassar College. King remained optimistic about the team's play moving forward.
"We wrapped up a good fall season at Ithaca this past weekend," King said. "We had some tough matches and opponents, but it'll help prepare us for the upcoming spring season."
Also on Sunday, the NYU women's golf team took fourth place at its last fall tournament in Wellesley, Mass. The Violets finished with a 340-stroke count the second day and a total score of 667 for the two-day invitational. They landed only seven strokes behind third-place Mount Holyoke College and 48 strokes behind the champion, Williams College. NYU captain and Steinhardt senior Kristina Shalhoup placed 14th overall, shooting a second-round score of 79, and CAS sophomore Elaine Tse finished eighth overall.
"It was a tough weekend for us, especially on a course that we didn't know," Shalhoup said. "But, each and every player did their best to save strokes, and that's definitely a quality we have to our advantage."
Shalhoup said she is looking forward to the team's spring season with confidence, despite what she said was disappointing play this season.
"This team is enormously talented, and we have a lot of work we're planning for the off season," she said. "I'm really looking forward to our hard work paying off in the spring."
Men and Women's Soccer
On Saturday, Oct. 12, the NYU men's and women's soccer teams hosted Case Western Reserve University at Gaelic Park in Riverdale, N.Y., for their opening game for the UAA conference.
Women's soccer tied 0-0 in double overtime, although the scoreless board did not do justice to NYU's time of possession and dominant defense, backed by Steinhardt freshman goalkeeper Cassie Steinberg. Of their six shots on goal — Case Western Reserve had five — two hit the crossbar.
In the men's game, NYU tied Case Western 1-1 after two overtime periods and 110 minutes of play. Both goals were scored within two minutes of each other early on in the first half, and the goalkeepers recorded five saves apiece. Stern freshman forward Bryan Walsh scored his second goal of the season, assisted by SCPS junior midfielder Tim Goldman, but Case Western outshot NYU 16-7. It was CAS junior midfielder Mickey Ingerman's first game back from injury.
"It was tough coming back from such a bad concussion, but I had a lot of support from my teammates, friends and family," he said.
Ingerman also gave his perspective on the position of the team given this weekend's result.
"We would have liked to get the win at home, but a tie still gives us a point," he said. "The UAA is a very competitive conference and any point we can pick up is crucial."
Willow Frederick is a contributing writer. Email her at [email protected]
Willow Frederick is a contributing writer. Email her at [email protected]