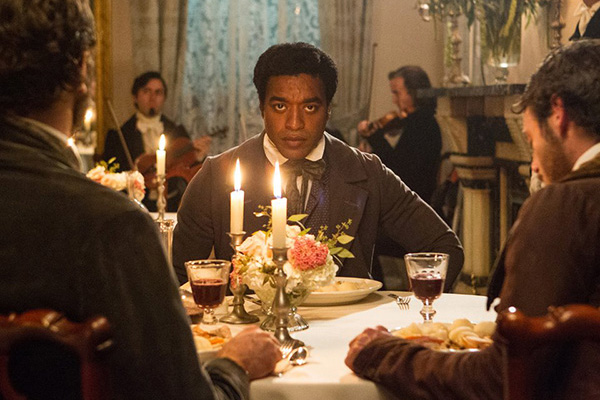 One of the many reasons "12 Years a Slave" is great is its resistance against depending on violence to elicit an emotional reaction. Of course, because the film is a slave narrative, director Steve McQueen never holds back from showing the brutality of the whippings, rapes and emotional torture inherent in the practice of slavery. But McQueen doesn't rely on this harsh material for dramatic effect.
Instead, McQueen finds cathartic, emotional releases in lengthy, pensive shots of the film's characters. Most of these shots are of the film's protagonist — Solomon Northup (Chiwetel Ejiofor), a free black man who was kidnapped and sold into slavery in 1841, and then remained a slave for 12 more years.
The long, reflective takes do little to advance the film's riveting narrative. In fact, there are whole scenes of Solomon looking off into the distance, pondering his circumstances. The audience receives very few details prior to the shot, but they still can understand everything he's thinking. That's the sign of minimalist direction that actually works.
McQueen's impressionistic approach is what makes "Slave" such a fresh take on slavery. It lends the sweeping tale a sense of cinematic grandeur that prevents it from being manipulative. If anything, McQueen helps the audience stay on their toes. He forces his viewers to be thinking continually, much like Solomon, who must remain constantly aware of his surroundings to survive.
Early on in the movie, McQueen makes the important decision of abstracting the narrative by interspersing Solomon's miserable life on a plantation with memories of his wife and children. It may not seem like McQueen is doing anything worth noting, but before the title credit even rolls, it's obvious the film isn't about simply being a slave. Rather, it's about bigger ideas than those simply grounded in history.
"Slave" also excels above most films of its kind because it touches on universal themes. It's a film about remaining hopeful in the worst conditions and, more importantly, it's a film about the meaning of freedom.
These may sound like heavy charges for the film, but screenwriter John Ridley articulates the big ideas behind "Slave" with an astounding amount of clarity. Despite both a surprising lack of dialogue and any constraints that may accompany the adaption of Northup's autobiography, Ridley tells an epic story in such a concise manner that every scene seems necessary in the grand scheme of the film.
With Ridley's screenplay come marvelous performances, particularly from Ejiofor, as well as Lupita Nyong'o, who plays a slave forced into a relationship with her master. It would be near impossible not to sympathize with Ridley's characters because of these performances. Even those in the supporting cast — Brad Pitt, Michael Fassbender, Sarah Paulson, Benedict Cumberbatch — deliver spectacular performances in their short screen times.
But without McQueen, "Slave" would have been a very different work. The film would have lost its humanity, and it could have had the unfortunate problem of being just another slave narrative. That is not at all what "12 Years a Slave" is. In fact, it's the opposite — a masterpiece and an epic that is destined to become a classic.
A version of this article appeared in the Thursday, Oct. 17 print edition. Alex Greenberger is film editor. Email him at [email protected]