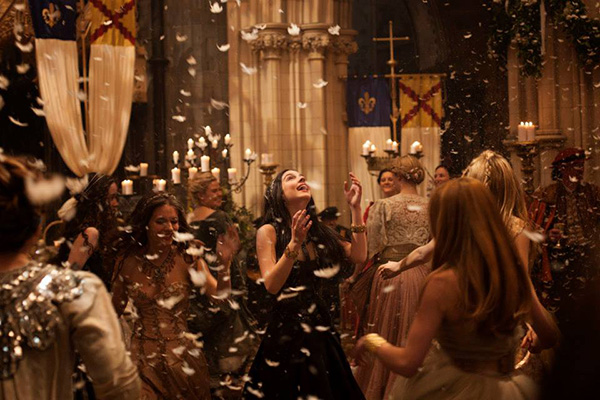 On The CW, any idea can become a teen drama. Tonight, Oct. 17, the network introduces its new series "Reign," loosely based on the story of a young Mary, Queen of Scots, and her marriage to the Dauphin of France, Francis.
In this adaptation, Mary arrives at a French palace after an assassination attempt.  At the palace, not everyone is excited about her arrival — Francis' mother, Queen Catherine, for example, has been foretold that Mary will bring death to her son.
Luckily, Mary is not alone. Her four best childhood friends join as her ladies-in-waiting to make Mary as desirable as possible to Francis. But even after Mary and Francis are betrothed, alliances can change. So now, Mary needs to woo Francis into loving her so he will marry her, even if it's not to his country's benefit.
But there appears to be anot-her threat lurking in the woods. There is some kind of supernatural force that can only be sustained with blood sacrifices.
The pilot episode of "Reign" clearly mashes together several different genres which will hopefully be connected in a more organized manner once the show finds its footing. The CW's viewership is heavily made up of teenagers — a massive and influential audience — so whatever direction "Reign" finally decides on will be crucial to its success.
Particularly amusing on the show is Mary's relationship with her four ladies-in-waiting. The five girls prepare for the day by helping each other with makeup and hair. There is even a scene where they all start dancing together at a wedding. It's like "The Sisterhood of the Traveling Pants" with corsets and crowns.
Mary's behavior is not a realistic portrayal of how a lady at that time would behave, and "Reign" has taken the liberty of making her seem like a regular teenage girl, perfectly fitting with the show's youthful energy.
The set design and costumes are gorgeous and period appropriate. The story elements aren't too ridiculous — after all, they're what you would expect from a CW show. If the show can produce episodes with more succinct plot lines and hold to the story the writers want to tell, "Reign" could sell itself as a youthful version of "The Tudors," which definitely wouldn't be a bad thing.
A version of this article appeared in the Thursday, Oct. 17 print edition. Laura Wolford is a staff writer. Email her at [email protected]