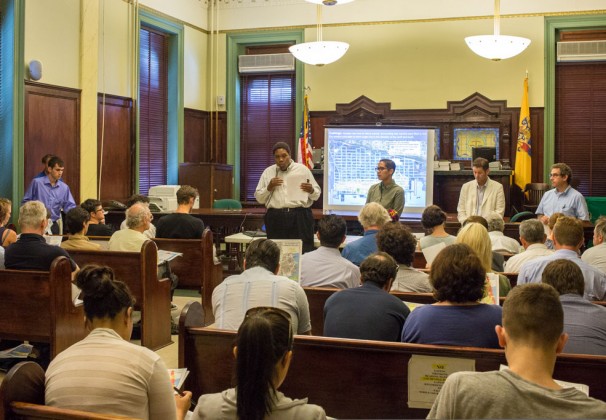 The Institute for Public Knowledge at NYU is sponsoring Rebuild by Design, a multi-step design competition that allows teams to design projects that increase resilience against disasters in regions affected by Hurricane Sandy and aims to understand the impact Sandy has had on the community. Selected proposals will receive funding from the congressional Sandy relief bill.
IPK is working on this project in collaboration with the U.S. Department of Housing and Urban Development and the president's Hurricane Sandy Rebuilding Task Force. Representatives from the task force reached out to Eric Klinenberg, the director of IPK, to see if IPK could provide institutional support for the initiative.
Stage one of Rebuild by Design began in June with an application process that sought professionals with experience in landscape design, urban design, architecture, land-use planning, industrial design and communications.
"148 international teams from 40 countries applied to be considered for the competition, [and] 10 were chosen by the Sandy task force in Washington, D.C.," Klinenberg said.
Those 10 teams are now nearing the end of stage two, which began in August and runs through the end of October. This stage, which is supported by a staff hired by Klinenberg and IPK, analyzes the region's needs and vulnerabilities after Sandy as a basis for identifying design opportunities.
Rae Zimmerman, a professor of planning and public administration at NYU, emphasized the need to approach disaster preparedness on a regional scale.
"We need to look at a site-specific geographic scale when we do disaster preparedness, [and we] shouldn't lose sight of the fact that we need a citywide and
regional planning perspective so that local and larger plans don't conflict," Zimmerman said.
David Wachsmuth, a doctoral candidate in sociology at NYU and a member of the Rebuild by Design research network that helped the teams with analysis, explained the long-term goals of these projects.
"[The end results] could be things like new infrastructure to deal with floods, new processes for helping governments cooperate with each other [or] new building codes for houses to be put on stilts," Wachsmuth said. "The things that NYU is running are going to wind down at the end of October when the research is done."
In the next stage, the teams will review what they have learned, and in the final stage they will propose projects.
"Congress has put aside quite a lot of money for rebuilding in the region, and this project is basically trying to come up with some good ideas for how to spend that money," Wachsmuth said.
Klinenberg said each of the teams will present three to five design opportunities at an event at NYU on Oct. 28.
Klinenberg acknowledged the honor for himself and for IPK to play a leadership role in this project.
"The Institute for Public Knowledge has played a special role in the public debate about what happened during Sandy as well as what we can do to remake the city," he said.
A version of this article appeared in the Wednesday, Oct. 16 print edition. Mimi McCann is a contributing writer. Email her at [email protected].