'Kill Your Darlings' beautifully portrays story of Beat Generation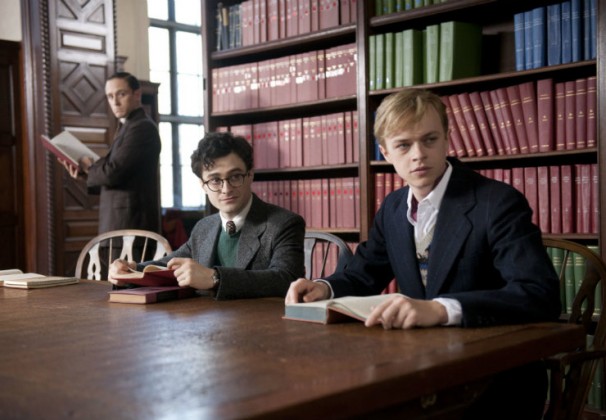 It's 1944 and things are changing in New York City. A group of young men are tearing down the normal conventions of poetry, forming what they call the Beat Generation and they are starting to take the city by storm.
"Kill Your Darlings," the first feature film from director John Krokidas, explores this transformation from the perspective of some of the poets involved, but the film spins the story in an unexpectedly darker direction based on true events.
The film follows a young Allen Ginsberg (Daniel Radcliffe) as he is accepted into Columbia University and relocates to the Upper West Side. He doesn't fit in right away, but things become more comfortable when he meets Lucien Carr (Dane DeHaan), an eccentric student known for breaking the rules. Ginsberg and Carr hit it off immediately, but Carr is haunted by his past, which slowly unravels as the film progresses.
Integrated into the proceedings is David Kammerer (Michael C. Hall), a mysterious poet who has some sort of connection to Carr. The film ends up being less of a Ginsberg biopic and more of a twisted romance-mystery revolving around Carr, with Ginsberg finding himself lost at the center of things.
While Radcliffe makes for a perfectly decent Ginsberg, the real powerhouse performances come from Hall and DeHaan. The two are explosive as Kammerer and Carr, both individually and when matched as a pair. Their relationship is terrifying and their chemistry is spot-on.
The supporting actors also do justice to their real-life characters. Jack Huston is excellent as Jack Kerouac, and Ben Foster gives a great performance as William Burroughs. Elizabeth Olsen plays Kerouac's girlfriend, and while she should have played a larger role, Olsen does her best with a minute role. David Cross also gives a surprisingly dramatic performance as Ginsberg's father, who must deal with Allen's antics at Columbia while at the same time trying to figure out what to do about his mentally unstable wife.
Krokidas' direction is sharp and inventive, creating an independent sensibility and giving the film a unique voice. In particular, Krokidas nails the thematic string of "the lifecycle" that carries throughout the film. This theme explores the idea that all events ultimately lead back to their beginnings — Krokidas ties this to the idea of the Beat Generation replacing its predecessors. His methods are not exactly subtle, but it works well in the context of the film, especially given how ostentatious the characters are supposed to be.
Most importantly, "Kill Your Darlings" feels fresh. What could have been a History Channel special is actually poetic and involving. With its excellent performances and its thought-provoking story, Krokidas's first feature is able to find a distinct voice. It's indie filmmaking done right.
A version of this article appeared in the Wednesday, Oct. 16 print edition. Jeremy Pick is a staff writer. Email him at [email protected]