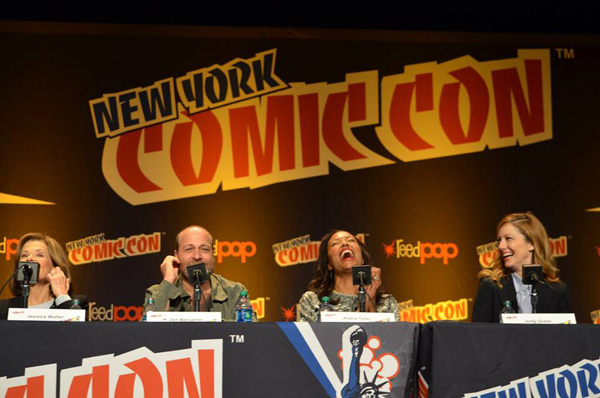 When you have comic voice actors H. Jon Benjamin, Lucky Yates, Aisha Tyler, Amber Nash, Judy Greer and Jessica Walter in the same room, things inevitably get a little out of hand.
On Oct. 12 at New York Comic Con, the cast of FX's genre-bending animated series, "Archer," joined creator Adam Reed to give a sneak preview of the upcoming season. Amid the insanity, name-calling and numerous references to inappropriate topics, the panel managed to simultaneously entertain a crowd of die-hard fans and reveal some sweeping changes in the series' future.
After a hilarious animated presentation featuring the show's protagonist Sterling Archer himself, the crowd was given an exclusive preview of the season premiere scheduled to air in 2014. With a surprise FBI raid that forces the agents of the International Secret Intelligence Service to confront their greatest threat yet, the episode revealed the show's new direction this coming season. A frustrated Ken Tucker, who served as moderator, ripped up his queue cards after the screening and asked Reed, "Why?"
Reed replied that he wanted to take a whole new approach to a show.
"I just wanted to change it up and breathe some new life into the show and try something different," he said.
Reed teased that the season will see a "Breaking Bad"-esque transformation that would turn Archer from Mr. Chips into Scarface.
"When I pitched the idea to FX, they were surprisingly okay with it when they saw where we were going," Reed said. "We showed them the scripts, and they were totally on board."
However, Reed believed that they still managed to retain the essence of the show.
"The fact is even though the show's going off in a totally new direction, Archer and the gang will still be doing pretty much the same things," he said.
With Lana (Tyler) revealing her pregnancy at the end of last season, "Archer" left a lot of unanswered questions that Tyler was excited to address.
"I'm really looking forward to having a pregnant Lana do all the things that a pregnant woman shouldn't do," she joked. "If I was her, I wouldn't be engaged in wet work, but Lana has proven to be a competent spy and a terrible decision maker."
Yet, in the hands of Reed, the pregnancy also provides endless possible plot points and gags. "ISIS would probably become the worst family or daycare crew ever," said Reed.
In the past, "Archer" has featured the voices of impressive guest stars, including Bryan Cranston, Ron Perlman and Burt Reynolds. This season's line up will be equally exciting.
"I don't want to out anybody without any definite yes, but we've got a pretty sweet cast lined up," Reed said.
Bob Teoh is a staff writer. Email him at [email protected]