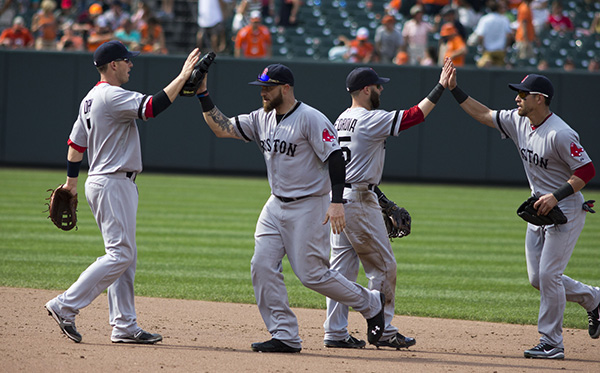 For many sports fans, October means one thing — the Major League Baseball playoffs. At month's end, a new champion will be crowned in the 2013 edition of the World Series.
In the beginning, there were 10. Of these teams, the once overlooked Boston Red Sox have emerged as favorites to advance to the Fall Classic. After finishing last in the American League East with only 69 wins in 2012, the denizens of Fenway Park rebounded this season to clinch their first division title since 2007, winning 97 games. On Tuesday night, the Red Sox secured their first playoff series victory since 2008 with a 3-1 win over division rival Tampa Bay in Game Four of the American League Divisional Series.
Boston was bolstered by an offseason makeover, headlined by the hiring of former pitching coach John Farrell as manager, replacing the unpopular Bobby Valentine after one tumultuous year. Highlighting general manager Ben Cherington's roster changes were the acquisitions of power hitters Jonny Gomes and Mike Napoli as well as perennial workhorse Shane Victorino. Boston's trade-deadline deal with the Los Angeles Dodgers involving pitcher Josh Beckett, outfielder Carl Crawford and infielder Adrian Gonzalez freed up enough cap space for the new contract signings.
Alongside new faces are franchise veterans who have contributed to Boston's winning ways over the past decade, namely centerfielder Jacoby Ellsbury and second baseman Dustin Pedroia. They have proved invaluable at the plate and in the field with a stellar combination of contact hitting and stalwart defense. Perhaps most importantly, Sox slugger and fan favorite David Ortiz has eluded injury and returned to top form, contributing to a potent Boston lineup.
The Red Sox' hitting prowess has found support from the pitcher's mound as well. While not on the level of Detroit Tigers aces Justin Verlander and Max Scherzer, Sox starters Jon Lester and Clay Buchholz have been consistent on the hill this year. Along with lights-out closer Koji Uehara and newly acquired starter Jake Peavy, the Red Sox pitching staff has made every at-bat a struggle for opposing hitters.
The contributions of role players cannot be overlooked. Rookie infielder Xander Bogaerts has shown flashes of brilliance in both the regular season and playoffs, while utility infielders Mike Carp and Will Middlebrooks have come through in critical moments for Boston.
Above all, the Red Sox have been successful due to a revival of the team-first spirit that won them two historic World Series in 2004 and 2007. After several seasons plagued by lack of discipline and commitment from the team's highest paid stars, especially Beckett, this year's edition of the Boston Red Sox has coalesced around a philosophy of teamwork and shared success, raising the morale of players, coaches and fans alike. Beyond all the talent the Red Sox possess, perhaps the most important factors are a team to be proud of and a reason to believe.
Charles Surette is a contributing writer. Email him at [email protected]