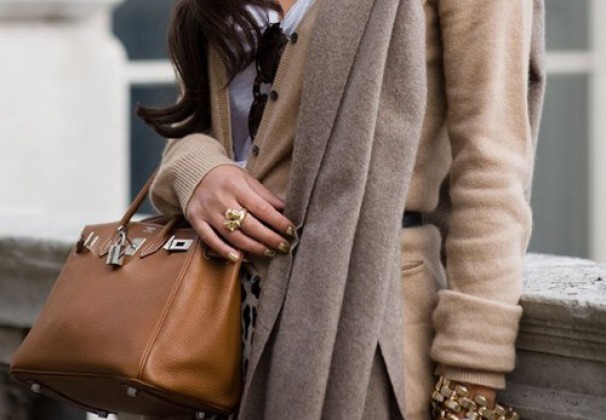 Few fabrics connote luxury and style quite like cashmere. The warm yet lightweight wool is a perfect choice for that all-essential sweater you'll want to wear on crisp fall outings. Shopping for cashmere, however, is no walk in the park. Finding a quality blend that won't break the bank is daunting, and there's also stretch, shape and ply to consider. The following guidelines will help you determine which cashmere sweaters are worthy of a splurge.
Fiber quality
You'll want to look for sweaters made of long fibers, which come from the neck and underbelly of the cashmere goat. Avoid sweaters that appear coarse or bumpy. This type of texture indicates short-staple wool that will pill after it is worn a few times.
Blend purity
Always check that a garment is composed primarily of cashmere. The label will specify what percent of the blend is cashmere and what is supplementary material. The closer to 100 percent cashmere, the softer the swea-ter. Italian brand Loro Piana is famous for their entirely pure cashmere pieces, like the stylish Battersea turtleneck ($1,370). French brand Equipment offers similarly high-end blends at a slightly more attainable price, like the 100 percent cashmere Oscar turtleneck ($318).
Color
Fabric that has been heavily soaked in dye is not as supple as raw cashmere, which is naturally found in shades of cream, grey and brown. These neutral tones are preferable when investing in a luxury garment, as they will match a myriad of other colors to ensure you get the most wear out of your new splurge.
If your style is more trendy than classic, opt for a pastel hue. The fall runways were full of sweaters in unexpected colors like powder pink, baby blue and mint green. Light dyes won't alter the texture of the cashmere, so you can work the pastel trend without sacrificing softness. J. Crew has a number of colorful offerings, like the cashmere long-sleeved tee ($188), available in a rainbow of lighter colors, and the cashmere tippi sweater ($188) which comes in pastels like pale pink and heather sky.
Ply
Go for a garment with at least two-ply, meaning two or more threads of cashmere are used per stitch. Heritage label Johnston and Elgin's two-ply cashmere classic crew sweater ($385) is a solid choice. A higher thread count of four- or eight-ply will have a chunkier look, like the cashmere chunky turtleneck ($1,495) from specialty cashmere brand Tse. Steer clear of pieces that are see-through when you hold them up, as they are most likely only one ply and will not insulate well come wintertime.
 Stretch and Shape
Try bunching the sweater into a ball before you make the purchase. If it springs back to it's natural shape without wrinkling, you'll know it's good cashmere.
A version of this article appeared in the Wednesday, Oct. 9 print edition. Lindsay LeBoyer is a contributing writer. Email her at [email protected]