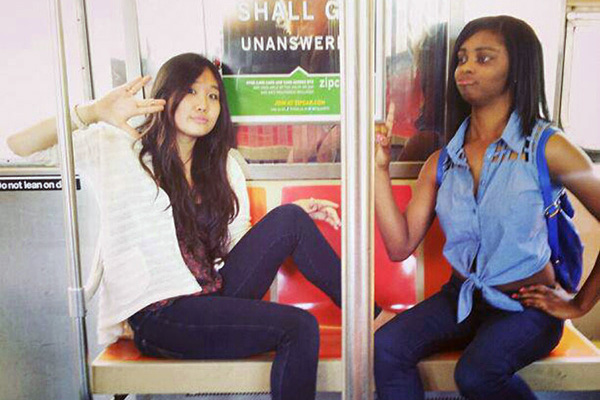 Tennis wasn't Stern sophomore Alison Wang's first choice. Actually, she began her athletic career with ice skating. She only started playing tennis at the suggestion of her parents. While she heeded their advice, she saw it as a recreational sport.
"I didn't start to take [tennis] seriously until my coach suggested I play in tournaments," Wang said. "That's when I really fell in love with the sport."
This past weekend, Wang, along with LSP sophomore Ashley Masanto, competed at the Intercollegiate Tennis Association Northeast Regional Championships. They both reached the round of 16 in the singles bracket. However, it was in the doubles where the two were able to excel and reach the semifinals. Although they didn't advance past the semifinals, their progress and partnership provide hope for the future of NYU women's tennis. While Wang's journey to collegiate tennis came unexpectedly, Masanto has a different tennis background.
"I started watching professionals play when I was 9 and I thought it seemed like fun so I started [to play]," she said.
Masanto led St. Francis Preparatory School in Fresh Meadows, N.Y., to a three consecutive CHSAA Championships and helped lead her second high school, Baldwin Senior High School in Baldwin, N.Y., to a conference title. When Masanto arrived at NYU, she was ranked in the top 100 for the class of 2012 women's tennis recruits.
This unlikely pair has proved to be a winning combination. Although Masanto and Wang are only sophomores, they have already established themselves as two of the premier tennis players on the team, and they show no signs of stopping.
"This year is different from the past because my game has improved, and I'm a stronger player," Masanto said. "I love the competition and the feeling of winning a match."
On the court, the duo bring out the best in each other by working together.
"Our styles complement each other and we always encourage each other to do our best," Masanto said.
Head coach Horace Choy said the nature of their relationship makes them tough to beat.
"They really get along," Choy said. "Neither gets down on each other and they are able to pick each other up."
This encouragement on the court has bolstered a solid friendship off the court as well. Masanto and Wang have become great friends, and being on the same doubles team only strengthens that bond.
"Having teammates to rely on both during matc-hes and outside of tennis is terrific," Wang said.
Wang and Masanto will play with the women's tennis team on Friday, Oct. 11, at the New York State Division III Championships at Ithaca College.
A version of this article appeared in the Wednesday, Oct. 3 print edition. Ferenc Puskas is a contributing writer. Email him at [email protected]
A version of this article appeared in the Thursday, Oct. 3 print edition. Ferenc Puskas is a contributing writer. Email him at [email protected]