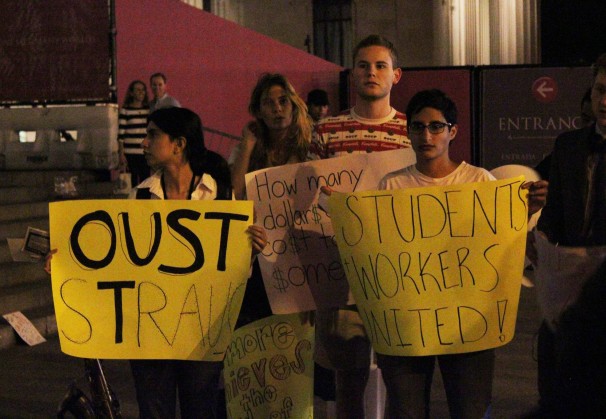 About 30 demonstrators gathered outside the Metropolitan Museum of Art during the NYU School of Law's annual Weinfeld Gala in an attempt to protest what they called a violation of workers' rights by Daniel Straus, Zachary Carter and Vincent Tese, who sit on the law school's Board of Trustees.
On Oct. 1, members of NYU's Student Labor Action Movement, Communication Workers of America and 1199SEIU United Healthcare Workers East, an affiliate of the Service Employees International Union, held posters and shouted slogans accusing the three trustees of union-busting at the companies they run.
"We think it's tragic that the people who represent NYU as our trustees are doing nefarious and horrendous deeds like stealing money from workers and forcing them to work overtime," said Gallatin sophomore and SLAM protester Robert Ascherman.
Carter and Tese sit on Cablevision's board of directors, which has been in a protracted dispute with CWA since January 2012, when Cablevision's Brooklyn employees unionized. The union and Cablevision have still not agreed on a contract.
"CWA reached out to us about this recently, and we were really excited to broaden the scope of their campaign," said Gallatin senior and SLAM protester Caitlin MacLaren.
The SLAM campaign against Straus has lasted more than a year. Straus runs CareOne and Healthbridge Management companies, which operate nursing homes throughout the tri-state area. CareOne and Healthbridge employees, who are unionized under 1199SEIU and have the backing of the NLRB, said Straus violated labor laws and refused to negotiate a labor contract in good faith.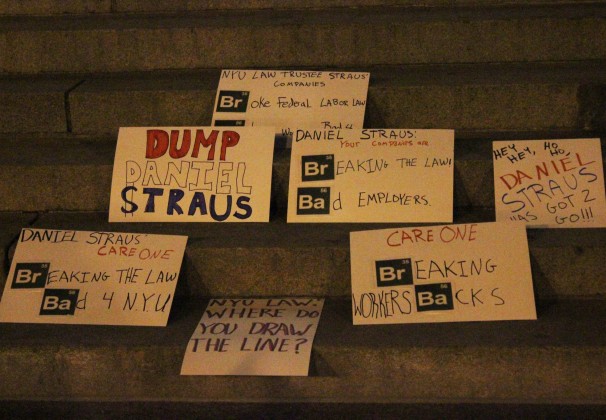 "Straus doesn't care about workers, he doesn't give good wages, he disrespects workers," said CareOne employee and protester Jeffrey Jimenez, 23.
Straus' companies do not see it that way. On a page titled About the Union on CareOne's website, that company says 1199SEIU is campaigning to injure CareOne's reputation.
"The SEIU has made numerous attempts to organize workers at CareOne Health Care Centers, only to be rebuffed by employees who do not want to spend their hard-earned money on union dues, and who prefer a direct and open relationship with management without the involvement of a third party," the page read.
MacLaren said SLAM saw the Cablevision and CareOne cases as intimately connected.
"We see this as a pattern of really wealthy, powerful people on our Board of Trustees who are really giving the short end to workers at their companies," MacLaren said. "We think NYU should stop accepting money from people who are basically stealing from workers, but the ideal outcome would be for the trustees to change their behavior."
As of press time, an NYU spokesman had not responded to a request for comment.
A version of this article appeared in the Wednesday, Oct. 2 print edition. Billy Richling is a deputy news editor. Email him at [email protected].