Alum Jerry O'Connell talks CBS comedy 'We Are Men'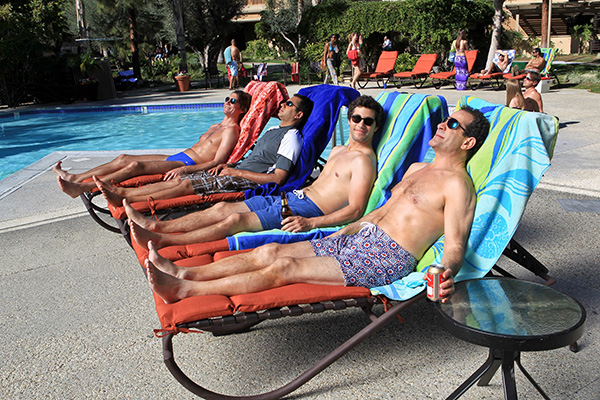 Not all actors can claim to have the sustained presence of Jerry O'Connell. He's a 1995 graduate of NYU who has had continued Hollywood success since his childhood film debut in Rob Reiner's "Stand by Me." Now the actor finds himself on TV screens this fall in the CBS comedy "We Are Men," alongside Kal Penn, Chris Smith and Tony Shalhoub.
"You get to see us going out and being awful, being single," O'Connell said. "It's really fun. It's about four guys who are recently, or currently, going through divorces, and they're in temporary housing. But it's like nice temporary housing. It's like living at Carlyle."
The program is one of many TV shows that feature O'Connell, who has contributed to comedies, crime dramas and science fiction programs. In terms of the criteria for his film selections, O'Connell explained that he generally joins a project based on the crew working behind the scenes.
"You know, I always like to like my boss," he said, citing Bryan Fuller and Bryan Singer as examples. "I really like to see who the bosses are and what I can learn from them. There's just something so enjoyable about having a knowledgeable, creative, super talented boss. You enjoy learning from them. You don't mind working long hours for them."
Well before making the trip to television, O'Connell immersed himself in his studies as an NYU student. The actor reflected on the strengths of his experiences as an undergraduate.
"What I really took away from film school were the film theory classes, the Cinema Studies classes," he said. "I had seen 'Rear Window' a bunch of times before I had come to film school. And then when I was a freshman, they showed it in an introductory cinema studies course, and I just saw so many hidden aspects in that film that I'd never seen, and I thought that I knew that film in and out. I hadn't even scratched the surface … it was invaluable."
When asked for advice for students trying to break into Hollywood business, Jerry O'Connell affirmed that persistence was the key quality to have.
"When you get out of school, you're definitely going to have some sort of introductory job," he said. "It's probably going to be a job that you don't like."
"And my only advice is stick with it. If you have to get a second job, do that," O'Connell said. "If you stick around long enough and you have a little bit of talent, I don't care what you do, cinematography, acting. If you have a little bit of talent, it's going to work out for you."
Keith Allison is a contributing writer. Email him at [email protected]