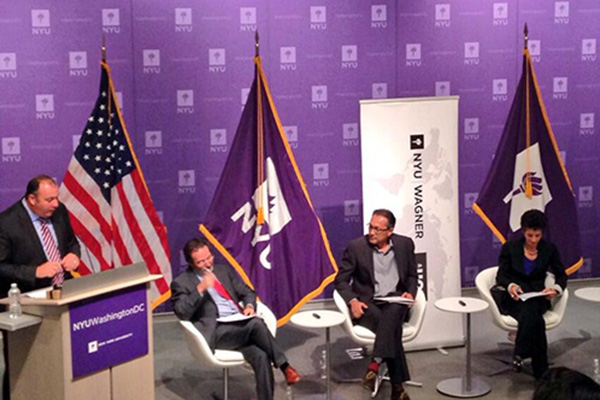 The Wagner Graduate School of Public Service and the University College London presented a panel discussion on the changing landscape of global public policy on Sept. 30 at NYU Washington, D.C., which was broadcasted online.
The discussion was an opportunity for the panel to introduce the joint Global Executive Master of Program Administration degree program between NYU Wagner and UCL.
The panel consisted of four senior policy experts from diverse backgrounds, including Google and the World Bank, who discussed changes they believe should be implemented in public policy education and the impact of Internet, technology and globalization.
Paul Smoke, co-director of the new program and director of international programs at Wagner, said the decision to host the event at NYU D.C. stemmed from the desire to reach the broadest possible audience.
"To discuss these important policy issues, we wanted to reach New York and the D.C. audiences," Smoke said. "We're also able to reach a global audience via the [streaming] of the event."
Among the panelists was Wagner dean Sherry Glied, who said the variety in experiences and backgrounds that the panelists brought to the discussion showed students the diverse careers in public policy.
"The panelists' backgrounds and organizations illustrate the mix of domestic and international work in the public and private sectors that we want to help students explore," Glied said.
Susan Molinari, vice president of public policy and government relations for the Americas at Google, discussed the ability people have to instantaneously access information. She said college students need to have technical skills and be thinkers who can anticipate problems before they arise.
"Think really big thoughts, and set your goals so that you are uncomfortably excited," Molinari said.
Stern freshman Adeline Guo, who is studying business and political economy, watched the event online and agreed with many of the points the panelists made.
"This seminar reiterated the idea that public policy can't just be limited to just the domestic sector anymore," Guo said. "It's a changing world, a growing world, and we need to be conscious of our roles in the global sphere."
The discussion was also aimed at introducing the new degree program. The year-long, full time program will launch in September 2014 and is aimed at mid-career civil servants who already have seven to 10 years of experience.
As part of the program, students will spend their fall semester at Wagner in New York and their spring semester at UCL. They will also spend their summers in various global sites, working on client-based Capstone projects.
A version of this article appeared in the Tuesday, Oct. 1 print edition. Julianne McShane is a contributing writer. Email her at [email protected].