Elie Wiesel, Rwandan president discuss genocide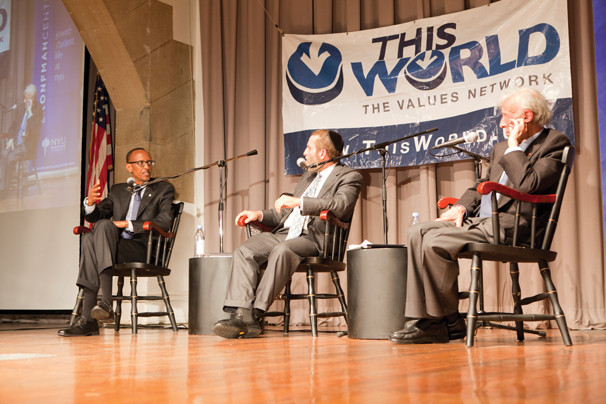 Nobel Peace Laureate and Holocaust survivor Elie Wiesel and Rwanda President Paul Kagame discussed U.S. intervention in Syria at Cooper Union as part of a controversial event titled "Genocide: Do the strong have an obligation to protect the weak?" on Sunday. Rabbi Shmuley Boteach moderated the discussion.
The event was a prelude to the 20th anniversary of the Rwandan Genocide and coincided with the UN General Assembly week, taking place in the UN headquarters from Sept. 24 to Oct. 1.
Many people stood in line for over an hour to see the discussion. A half-hour before the event, organizers told attendees that the event had been overbooked and that many people would not be admitted, regardless of whether they pre-booked their tickets.
While the event was well-attended, several people protested Kagame outside.
At the beginning of the event, a member of the audience interrupted Wiesel, shouting at Kagame and criticizing his governance. Rwandan and American Secret Service agents quickly escorted him out.
Kagame and Wiesel talked about the Holocaust and the Rwandan genocide and provided their opinions about the potential international military intervention in Syria. Boteach also turned the attention to the ongoing civil war in Darfur and praised Kagame for sending troops to Sudan.
In order to stop a genocide, Kagame explained, one cannot wait to understand why the killings are taking place before taking action to save lives.
In reference to Syria, Kagame pointed out that the use of chemical weapons is unacceptable, and if the world leaders are sure these weapons have been used, then action must be taken immediately to protect the Syrian people.
Wiesel agreed that intervention in Syria was necessary and said he was disappointed with Jewish and American leadership in Syria.
"We know for sure that gas weapons have been used for the first time in a long period," Wiesel said. "Something must be done."
Boteach asked the speakers what we are supposed to feel toward evil and people who commit crimes such as genocide.
"Hatred is too easy, almost," Wiesel replied. "Okay you hate, and then what? … Hatred has a dynamic. Once someone starts hating it spreads."
Students had mixed reactions to the discussion, with some students saying the focus was unclear.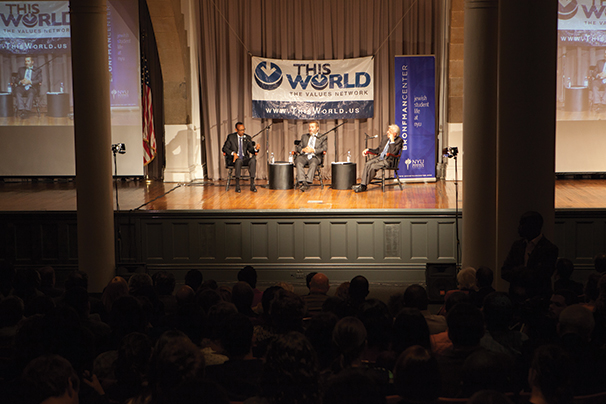 "On one hand, we had the rabbi who kept talking about the Holocaust and about Jewish values, [and] on the other hand we had the Rwandan President who avoided [saying] anything concrete and just gave some abstract remarks about genocide," Stern freshman Lori Berenberg said. "I am very confused about the event."
Erin Diggs, a global studies student at The New School, said the event was not a useful discussion.
"I feel like I have lost two hours of my life," Diggs said."I didn't hear one thing that was actually worth listening to."
A version of this article appeared in the Monday, Sept. 30 print edition. Maria Verbaite is a contributing writer. Email her at [email protected] 
* Correction: In a previous version of this article, a quote was improperly attributed to Zachary Schwarzbaum and his school was incorrectly stated. In fact, he did not speak the content of the quote and he attends Gallatin, not CAS.
Additionally, a previous version of this article misquoted both Elie Wiesel and Paul Kagame. Wiesel's did not say "We cannot focus on evil. We must look forward. I do believe in anger, but not hate. Because hate spreads and then the evil just continues." His correct quote has been placed above. Kagame was originally misquoted as saying "We should not wait to understand why killings are happening." His actual answer has been paraphrased above due to a discrepancy in the event's audio recording.
WSN regrets these errors.