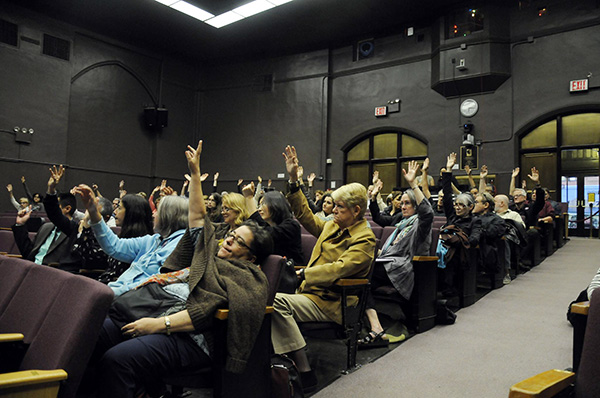 Approximately 100 contract faculty members, just a few in a group that represents over 50 percent of the full-time faculty members at NYU, gathered for the first time in the Frederick Loewe Theatre on Thursday night to discuss strategies for increasing their representation in the university senate.
Organized by the steering committee of the Full-Time Contract Faculty Association of NYU voluntarily formed in May, the forum brought together a diverse sample of NYU's non-tenure-track faculty to debate the group's next steps. The meeting comes after the university's promise this summer that it would work to increase faculty involvement in university decisions.
But according to the association, contract faculty are often neglected in the decision-making process not only by the administration, but other faculty groups as well. There is no guarantee that non-tenure-track faculty will be elected to the Senate's 36 member Faculty Senators Council. And last year, for the first time tenured faculty of the College of Arts and Science, NYU's largest college, voted to exclude contract faculty from voting in faculty meetings.
"I don't feel like I've ever received an invitation to take part in university governance," said Ward Regan, a Master Teacher in the Liberal Studies Program and an FTCFA steering committee member. "At 50 percent plus of the full-time faculty, there is no justification institutionally or ethically for keeping [contract faculty] out of the governance process."
In August, the Board of Trustees publicized the Joint Committee of NYU Stakeholders, a newly formed body that would allow faculty members to communicate directly with the Board. Each school is represented and professors are asked nominate members by a vote. But because non-tenure-track faculty are not guaranteed a vote in every college, the group is anxious they will not have a voice in the new model.
"Contract faculty fear that they're not going to be a part of this joint committee even though contract faculty are stakeholders in this university," said Frederic Viguier, another steering committee member and clinical assistant professor in the Institute of French Studies.
The Association also informed attendants that an ad hoc council of 30 contract faculty members, known as the Planning Committee for Contract Faculty in the Senate, would aid the Senate Committee on Organization and Governance in drafting a proposal for inclusion of contract faculty. Known as SCOG, the committee is responsible for making recommendations in governance
But Thursday's meeting showed that only professors in the Liberal Studies Program had heard of its existence to date.
"Perhaps they're planning to announce it." Viguier said. "But we're a little concerned."
In discussing the group's next objectives, the association's steering committee asked members to join subcommittees dedicated to researching general practices for contract faculty throughout NYU and at other universities.
"We feel that in order to participate, we need to be more informed," Viguier said. "Different things are happening in different schools. Steinhardt includes their contract faculty, FAS don't. In SCPS it's just contract faculty … In order to weigh in, we need to know what some of the best practices are."
The university has been publicly supportive of non-tenure-track faculty to gain representation in the University Senate and has urged the assembly to resolve any conflicts by the Trustees meeting in June 2014.
"Giving non-tenure-track faculty a voice in university governance, including the University Senate, is something  John Sexton and the Board strongly support," said university spokesman John Beckman.
In trying to organize the group of faculty dispersed across all the departments at NYU, the association said the university has not been overly accommodating. The administration refused to provide a list of contract faculty emails, and has been silent on faculty requests for information. When asked to provide a space for faculty to meet, the university was also unresponsive.
But for now, the group is doing what it can.
"We are at the beginning stages of both organization both the association itself, as well as trying to formulate and clarify our needs," Regan said. "We are not asking to take over the university. We are asking to be able to take part."

Additional reporting by Kevin Burns. Amy Zhang is blogs managing editor. Kevin Burns is a deputy news editor. Email them at [email protected]