Rise in NYC smoking rates leads to plans to manage health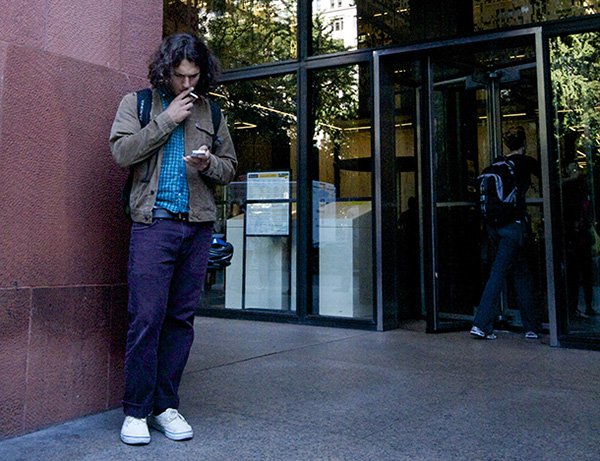 New York City has seen a marginal increase in its smoking population, according to the Mayor's Management Report published by the city's Office of Operations.
The rate of adult smokers increased from 14.8 percent to 15.3 percent from the 2012 to 2013 fiscal year.
The medical director of NYU's Student Health Center, Marcy Ferdschneider, was still optimistic that the overall trend of smoking had decreased for several years.
"With rates that have dropped so dramatically over the past 10 years we seem to still be well below the national average, which is terrific," Ferdschneider said.
"The Quit and Win Smoking Cessation Program is coordinated by the Student Health Center's Health Promotion Office," she said. "These individualized, confidential services are available to all NYU students at no cost and provide a terrific opportunity to experience the benefits of a smoke-free life."
CAS sophomore Nikki Payne said older generations were addicted to nicotine, which is why they might not be able to stop, and that the increase showed young people were smoking despite knowing the health risks.
"But the fact that the rate rose means that new people — assumedly New York's youth — [are] starting to smoke," Payne said. "They are making the decision to ruin their bodies, waste money and put others at risk because of secondhand smoke."
The center provides programs to lower the rate of student smokers at the university.
In 2011, the SHC conducted a survey of students who reported their own behavior. The survey showed that 4 percent of NYU students smoked cigarettes daily and 5 percent smoked 20 or more days in a one-month period.
"Smoking is harmful to both the smoker and those around them," Ferdschneider said. "We know that both smoking and exposure to secondhand smoke is directly related to increased rates of various illnesses."
Ferdschneider also said the university wants to assist students who want to quit.
"Smoking is a very difficult habit to break," he said.
CAS sophomore Jun Hee Lee said he understands smoking has severe consequences, but he also recognizes that quitting is not simple.
"People are always offering to help me quit smoking, but it does not work like that," Jun said. "As long as I need to smoke, I think I am going to continue smoking."
The Department of Health and Mental Hygiene has ongoing treatment projects and aims to increase awareness about the health risks associated with smoking, with one of its critical objectives being to reduce illness and death caused by using tobacco. According to the report, educational campaigns and nicotine-replacement therapies are two current strategies the department is relying on to bring down the amount of smokers in the city.
CAS freshman Erin Lee said she wishes students realized the serious effects of smoking for both their own sake and for people around them who are affected.
"I would like to walk to class without having to smell cigarette burning and the wind blowing it all straight to my face," Lee said.
A version of this article appeared in Thursday, Sept. 26 print edition. Elaine Lee is a contributing writer. Email her at [email protected]