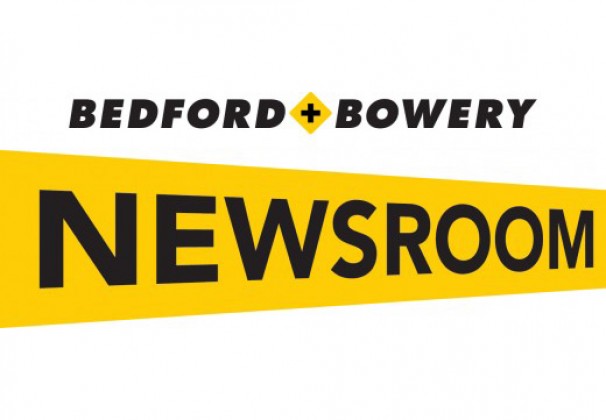 Bedford + Bowery, a collaboration hyperlocal news blog between New York magazine and NYU's Arthur L. Carter Journalism Institute, hosted its first event Tuesday at its pop-up newsroom in Williamsburg, which opened last week.
Bedford + Bowery, which primarily covers the East Village, Lower East Side, Williamsburg, Greenpoint and Bushwick, opened the temporary Williamsburg newsroom not only as a publication production space, but also to serve as a place to host a series of arts events and workshops that cater to the local flavor.
"Williamsburg seemed like a natural progression," Bedford + Bowery editor and visiting assistant professor of journalism at NYU, Daniel Maurer said. "The waves of gentrification have been such that you have the artists moving into the East Village, getting priced out, and then moving to Williamsburg, and now getting priced out of Williamsburg, moving to Bushwick."
For their kickoff event featured "Captured," which documents Clayton Patterson's life over the course of three decades. The film shows Patterson's off-the-record collection of photographs from the streets, riots and drag shows that colored the Lower East Side in the '80s and '90s. Patterson, who went to jail for refusing to turn over his coverage of the Thompson Square Park Riot of 1988 to the police, covered everything from drug-induced performances in underground clubs to instances of police brutality to the attacks on 9/11.
In a question-and-answer session after the film screening, Patterson discussed the changes he witnessed during his time in the Lower East Side.
"People have to be able to survive to make their art," Patterson said. "Gentrification sort of got to the point of saying 'that's enough.'"
Williamsburg resident Marion Seymour, 50, stated that Patterson's coverage was one of the few chronicling these events.
"There wasn't news coverage,"  Seymour said. "He was the documentarian for that whole scene, which was really critical in an era when New York was changing."
Bianca Valle, a freshman in the Tisch School of the Arts explained how Patterson's work was a source of information to those who were not present during New York's changes.
"I feel like a lot of people don't know that this happened, especially our generation," Valle said. "It makes me appreciate more how far New York has come."
Brooke Kroeger, professor in journalism and faculty liaison for the project, said she hopes the newsroom aspect of Bedford + Bowery could become a regular event.
"It might be something we do annually if we have the funds," Kroeger said. "Funding would be really critical for something like this."
According to an NYU press release from Sept. 18, the newsroom will be open through the end of October, at which point Bedford + Bowery will move to 20 Cooper Square.
"It's a very innovative way in which to report,"  NYU journalism professor David Dent said. "And to get young journalists involved in the reporting of New York."
A version of this article appeared in the Wednesday, Sept. 25 print edition. Blair Cannon is a contributing writer. Email her at [email protected]
* The original version of this article incorrectly called the subject of the documentary "Captured" Clayton Peterson. His name is Clayton Patterson. WSN regrets this error.