Author Reza Aslan visits NYU to discuss religion, history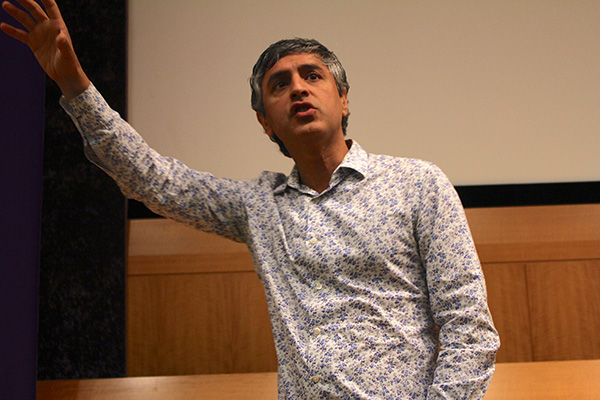 The New York Times bestselling author Reza Aslan visited NYU yesterday students to give a public lecture about the spread of Islam in the Middle East.
Author of "Zealot: The Life and Times of Jesus of Nazareth" met with Professor Zvi Ben-Dor Beite's Cultures and Context: Islam and Judaism, Intertwined Histories class.
According to Professor Benite, chair of Middle Eastern and Islamic Studies, Aslan was picked to speak in the class long before "Zealot" was published because of his book "No God but God."
"I was supposed to suggest speakers and wanted someone that could speak about early Islam and the biography of the Prophet in a interesting, innovative and accessible way," Beni said.
The class lecture was 20 minutes and was an open conversation that allowed students to interpret and ask questions about Muhammad the prophet. Aslan connected what the students have been learning with his lecture content.
"This should trigger what you have been talking about these few weeks," Aslan said. "This interconnectivity of these profanic solutions, each of them is deeply differentiated not just religiously but, more importantly, culturally."
The main point of the lecture was to explain the history surrounding the environment of the Arabian Peninsula during Muhammad's time and the spread of Islam. He also expanded on the idea of religion and the circumstances surrounding it.
"We think that religion is a personal thing between your relationship between god, your spirituality which is a very new idea," Aslan said. "Religion for most of the hundred thousands of years is something that has nothing to do with the individual, it has to do with the collective. It is your root that follows a particular god, your tribe or nation."
Aslan's evening lecture at the NYU Abu Dhabi Office located at 19 Washington Square North hosted about 40 audience member and was primarily about the historicity of Jesus, which is also the subject of his book. He introduced his presentation with the question of how one differentiates between Jesus the Christ versus Jesus the man.
"The difference between Christ and history is the two different ways of knowing," Aslan said during the evening lecture. "People of faith are interested in what is possible whereas people of history are interested in what was likely."
Aslan said there were multiple different stories regarding Jesus the man, as such he focused the lecture on one gospel and the history of Jesus until his crucifixion.
"What I find most interesting is how Aslan supports himself with historical facts and is not bias to the religious scriptures," CAS freshman Arif Khalil said. "Religion can be made by anyone so it is important to make the historical connections that Aslan made."
"Primarily, what I would hope for NYU students, regardless of the academic discipline that they are engaged in, to understand is the importance of critical reading, particularly when it comes to history," Aslan said. "These kinds of stories, ideas, myths and legends have to be understood as theological reflections of a historical event. Part of the process of learning how to think critically as a student, is figuring out how to discern the myth from the reality, the legend from the fact — whether it's about Jesus, or Mohammed or Napoleon or George Washington. Whoever it's about, it doesn't matter."
A version of this article appeared in the Tuesday, Sept. 24 print edition. Neela Qadir is a deputy news editor. Kavish Harjai is a contributing writer. Email them at [email protected]