Residence halls show spirit in Torch Day festivities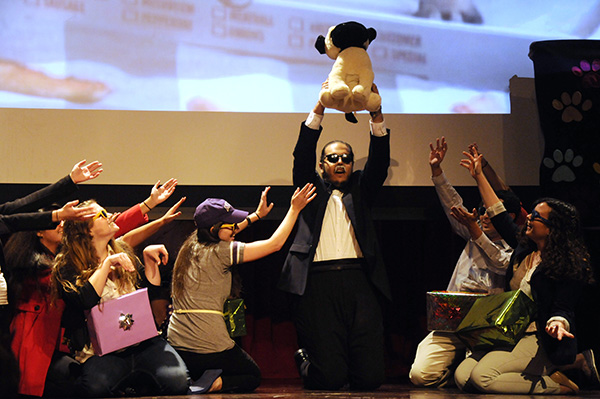 The 10th annual Inter-Residence Hall Council's Torch Day was held yesterday in the Kimmel Center for Student Life. Students from each of NYU's residence halls gathered to perform, attend leadership workshops and show their residence hall spirit.
The day started with keynote speaker Celiany Rivera-Velázquez, the director of the NYU LGBTQ Student Center.
Although each residence hall was present, two did not perform in the roll call, which occurred after the address. Representatives from each dorm were required to perform a dance, skit or other presentation that students acted out to represent their hall.
"It was a lot of fun seeing how creative the other residence halls were," said Gwen Baraniecki-Zwil, a Carlyle resident and a second-year dance major in the Tisch School of the Arts.
At the awards ceremony Founders residence hall won for best banner, Third North residence hall won for spirit, Palladium residence hall won for roll call, Goddard residential college won for best costume and Gramercy Green residence won Housie's Choice, the overall award.
"NYU has a supportive community and everyone was really quick to applaud other acts and make everyone feel comfortable," Samantha Macia, a CAS sophomore and Coral Towers residence hall general assembly member, said.
The rest of the afternoon consisted of three breakout sessions led by organizational executive board members and professional staff, who are employees at the residence halls. The first breakout session formed groups based on role within individual hall council. There were 16 choices for subsequent breakout sessions.
Broome Street residence hall president and CAS junior Grady O'Leary attended the presidential breakout, which was led by the president of the IRHC and the presidents of the other residence halls.
"It gives you an opportunity to see who you're going to be working with, and it's the beginning of the network we're going to be building this year," O'Leary said.
IRHC vice president of training and development and LSP sophomore Hilary DeWitt said Torch Day took about two weeks to plan.
This year, the breakout sessions were extended to 45 minutes to give more time for programming.
"I think everyone who attended today showed the E-board, as well as the pro staff, how excited they were for the year," DeWitt said. "If this is any indication for how IRHC is going to go, [residential] life is in for a great year."
A version of this article appeared in the Monday, Sept. 23 print edition. Emily Bell is a news editor. Email her at [email protected].