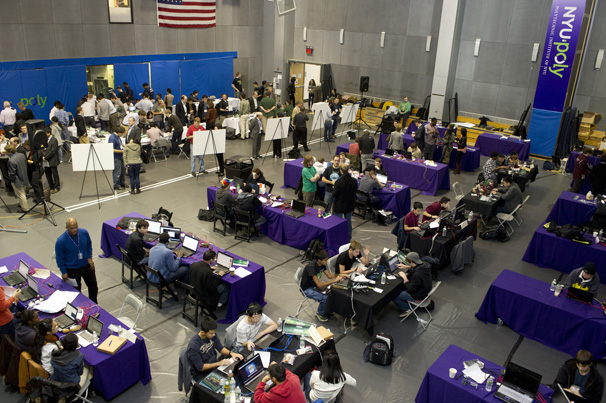 Even with 1,800 teams competing in the world's largest hacking competition, the Polytechnic Institute of NYU appeared no different than it would any other weekend.
"Almost everyone  [participated] remotely, but about a dozen of the students on NYU-Poly teams [were] on campus participating," said Kathleen Hamilton, the NYU-Poly communications director.
The 72-hour Capture the Flag competition, a part of Cyber Security Awareness Week, featured thousands of participants from around the world — from as far away as Australia to as close as New York City.
Teams that earned the most points were from universities that included Carnegie Mellon in Pittsburgh and Tsinghua in Beijing.
The competition, which was approximately twice the size of last year's tournament and took more than six months to plan, was judged by a panel of 35 cybersecurity experts who created different challenges, which can involve hacking into programs, systems and websites. The more difficult the challenge, the more points the competitors earn for solving it.
"We ask competitors to try and hack those websites to try and get a key," said NYU-Poly junior Kevin Chung, a student organizer for the event. Attendees submit their solution to the NYU-Poly website to earn points.
While the competition is open to the public, only undergraduate college students can advance to the finals in November. Industry sponsors, including Facebook and the U.S. Department of Homeland Security, will fly the finalists to Brooklyn, and the winners of that competition will receive a cash prize and a scholarship to NYU-Poly if they transfer or choose to pursue a graduate degree at the school.
The challenges vary year by year and are only available to those who are registered, but they are geared toward students who want to gain hacking experience.
"We try to aim it toward students who are just trying to learn," Chung said. "The first couple exercises are geared toward students who don't know anything about security."
Meghan Caiazzo, a first-year graduate student at NYU-Poly, said this was the first hacking competition she entered. She competed on an all-female team.
"I decided it would be a good opportunity for me to learn some general security techniques and tools," Caiazzo said.
Hacking competitions can be an attractive skill for potential employers who need someone with a strong cybersecurity background.
"A lot of employers know about hacking competitions and are curious about it, a lot of them have actually participated themselves," Caiazzo said. "It's always a common interest in cybersecurity."
NYU-Poly's Information Systems and Security Lab hosted the annual competition as part of CSAW.
"ISIS tries to get people of all ages and all walks of life into a lab, into an environment where they can really get their hands dirty with cybersecurity," Nicholas Anderson said. Anderson is a first-year graduate student at NYU-Poly who competed on the official ISIS team in this year's tournament. He first participated in the competition as an undergraduate at the University of Wyoming.
Anderson said the competition helped remove some of the stigma around the word hackers.
"The term hacker isn't always a malicious thing," he said. "There are good guys out there."
A version of this article appeared in the Monday, Sept. 23 print edition. Michael Domanico is a news editor. Email him at [email protected]