NYU Divest kicks off year with first meeting, other schools taking notice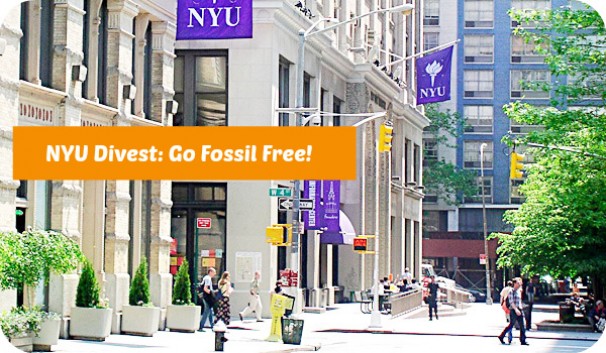 A group of 40 students gathered in the basement of 239 Thompson St. for NYU Divest's kickoff yesterday.
The group's mission is to convince the university to divest from fossil fuel companies.
Tisch senior Blake Sugarman began the meeting by telling the 40 students present that he and NYU Divest believe climate change is not a future problem, but an issue of our time.
"[Two degrees celsius] is the amount of warming we can afford before climate change gets out of control," Sugarman said. "[565 gigatons] is the amount of carbon we can afford to put into the atmosphere before we reach the 2 degrees celsius, and [2,795 gigatons] is the amount of carbon that is currently in the fossil fuel companies' reserves."
He also said at the current rate of emission it will only take 13 years to put 565 gigatons of carbon in the atmosphere. Sugarman said these numbers come from the 2009 UN climate summit in Copenhagen and from the Carbon Tracker Initiative in the United Kingdom.
After presentations from other group leaders, the students at the meeting raised some questions for the group.
One student brought up the response NYU President John Sexton gave at the Town Hall Meeting yesterday to a question from NYU Divest about the university divesting from fossil fuel companies. Sexton said NYU allows its investors to allocate its endowment without knowing exactly where the funds go.
Gallatin junior and founder of NYU Divest Sophie Lasoff responded that just because the university does not specifically choose stocks to invest in does not mean they don't have control over where their investors put the endowment.
"NYU is ultimately the client and NYU can decide exactly how that money is managed," Lasoff said.
Still there is some discrepancy between the group and the university about whether divestment causes a loss in profits or can be effective.
Another member of NYU Divest, 2012 graduate Belinda Rodriguez made the point that using other forms of energy is not as impossible as she once thought.
"It would be a lot scarier if it wasn't possible to switch, but I believe very strongly that it is possible," Rodriguez said.
Tisch junior Ian Tullis came to the kickoff meeting because he wanted to get involved in the NYU Divest movement.
"Part of my reason for being here is so that I can learn more about this and then bring it to my friends and bring more attention and support," Tullin said.
Columbia junior Ryan Elivo was also at the meeting, as he is campaigning for divestment on Columbia's campus and has been in communication with NYU's group, as well as students at CUNY and the New School.
"We have a really awesome city coalition," Elivo said. "From there we have sort of built up a mini network, and we are really happy to be here supporting NYU Divest."
A version of this article appeared in the Thursday, Sept. 19 print addition. Nicole Brown is a news editor. Email her at [email protected]