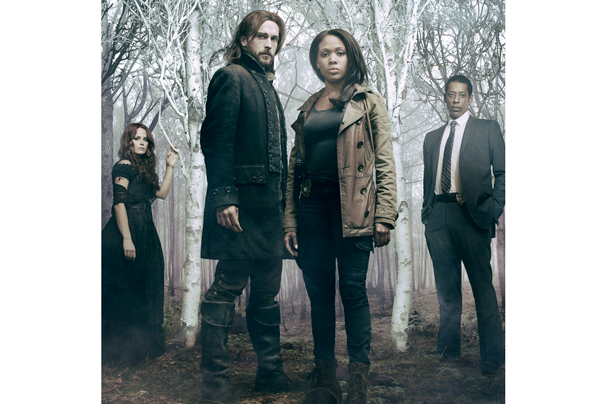 The dark and refreshingly comedic "Sleepy Hollow" is FOX's latest attempt to jump aboard the bandwagon of the fantasy television fad ("Once Upon a Time" on ABC, "Grimm" on NBC). Most people are familiar with the tale of the headless horseman — however, this adaptation brings a host of fresh elements to the table. 18th century schoolteacher Ichabod Crane (Tom Mison) awakens in a dark cave, and stumbles into a 2013 suburban Sleepy Hollow. His appearance coincides with the alleged sighting of a headless horseman, clad in a British Redcoat uniform and wielding a broad axe.
Local cop Abbie Mills (Nicole Beharie), as the partner of one of the horseman's victims and also the only one to see this horseman, wants to question Crane, who believes he is still in the 18th century. The rest of the pilot follows Mills and Crane as they attempt to solve the mystery of where Crane and the horseman have both come from, and what they can do to prevent another attack.
The show makes effective use of Crane's unfamiliarity with the modern world. Mison's performance entertains throughout — he hilariously marvels at not only the existence of cars but their automatic windows too. Crane is heroic and confident here, rather than shy and frantic as we've come to expect in previous renditions. These alterations make Crane's vulnerability in this unknown environment all the more enjoyable to watch.
The character of Mills unfortunately fails to impress. We know she is insecure, but the reason for this insecurity is left vague, which makes it difficult for the audience to become attached. Beharie misses the mark and plays Mills somewhat big-headed rather than timidly confident like the role seems to require.
While the show's mythology has been built up and many new elements have been included, the pilot addresses nearly every mystery this first hour introduces. Now the audience is left with few questions going into the second episode and beyond. The attempts to justify this story as a television series seem incredibly forced, as the pilot introduces some intriguing plot elements only to leave the viewer confused about what comes next.
"Sleepy Hollow" proves enjoyable — at least at this early stage — and could garner a dedicated fan base over its first season. However, the show's longevity will be dependent on whether the writers can justify the material for this story to last an entire series. After the pilot, it's clear that they have some work to do.
A version of this article appeared in the Monday, Sept. 16 print edition. Shawn Flanagan is a contributing writer. Email him at [email protected]